The Heart of Port Antonio: Great Huts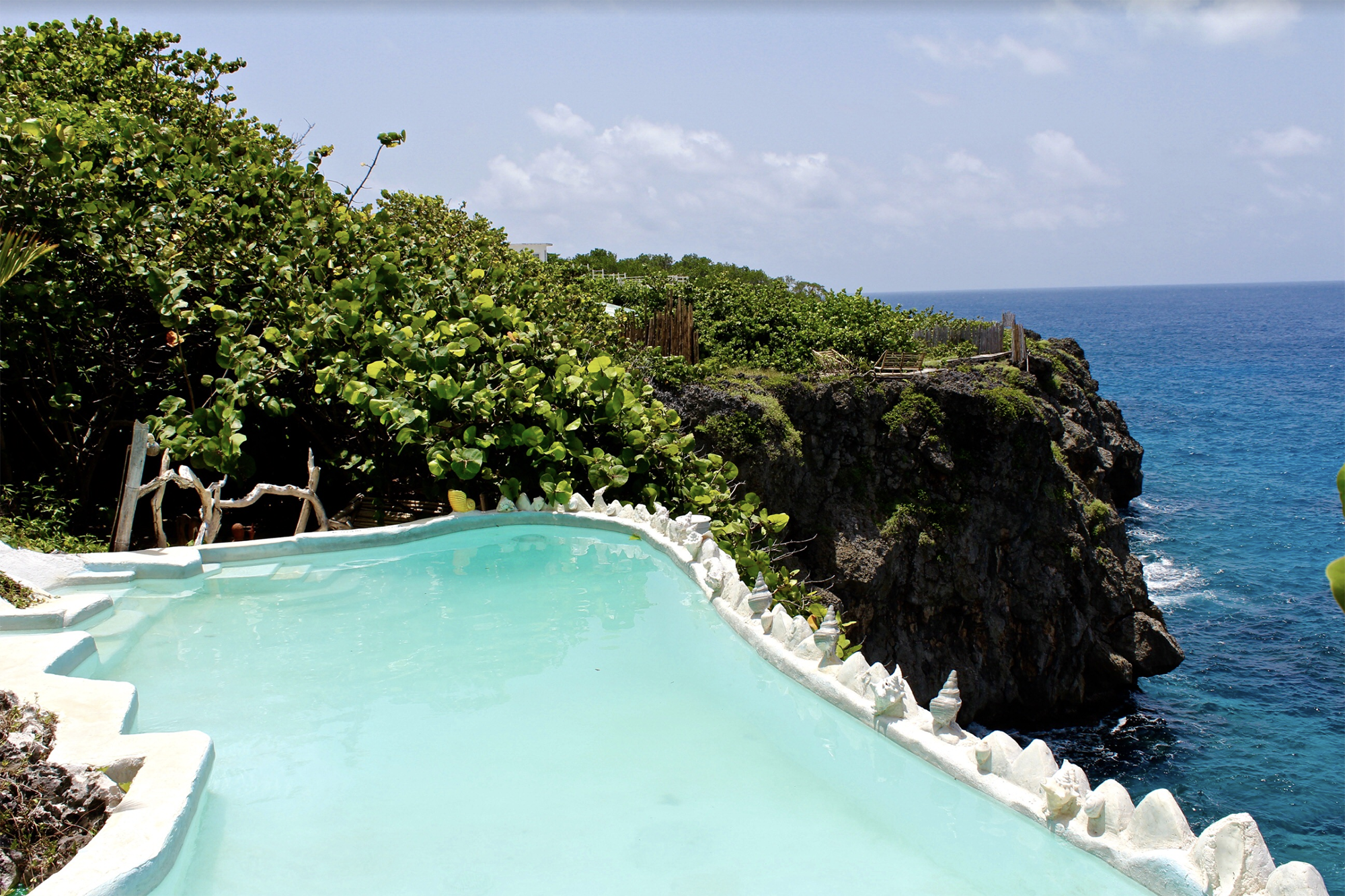 Deeply inspired by the sounds and spirit of Jamaican culture, we headed to Port Antonio to celebrate the island's unparalleled beauty for our summer 2018 lookbook. As soon as we discovered Great Huts and their powerful mission, we knew it was fate. Our new favorite getaway is a slice of Jamaican heaven that is rooted in supporting its community and environment, embodying what it means to be a Spiritual Gangster. 
Below, they share how they're raising the vibration of the island at Great Huts, and what makes Port Antonio so magical.
First things first, tell us more about Great Huts and how it came to be:
The Great Huts story began almost 20 years ago when our owner, Dr. Paul Rhodes, stumbled upon land for sale on an escarpment 100 feet above the azure waters of Boston Bay. His vision of creating a special place that would honor Jamaica's ancestry and cultural heritage became a reality in 2001.
"Dr. Paul," as he's known to most on the island, fell in love with Jamaica as a medical student in the 1970s. While caring for the elderly, he established projects to help programs and infirmaries in our western parishes. His tireless efforts to give back and encourage contributions from friends and volunteers have had a decided impact on many, many lives.
His connection to Jamaica became even more meaningful as he learned about the parallels between his own Jewish ancestry and the symbolic synergy of Rastafari history and culture. With the love and support of many Jamaican scholars, artisans and friends, he set out to replicate "a peaceful, harmonious West African Village, where guests can find comfort, tranquility and inspiration." He began with only three tents, but the growing numbers of guests have found a natural affinity to his mission and our phenomenal rainforest setting. Treehouses and huts have been added over the years, attracting poets, artisans, adventure seekers and nature lovers from around the world.
Befitting Dr. Paul's remarkable imagination and passion for the arts, "Paradise on the Edge" is a one-of-a-kind resort where "spirituality, nature, heritage, artistry and comfort converge."  But it is also a wellspring of community spirit, as its proceeds are funneled to support social actions such as the Portland Rehabilitation Management Homeless Shelter — a clear reflection of its founder's values as a healer, scholar and teacher.
You have an incredible mission – we'd love to hear about the work you do to support your community and the environment 
Our main community programs support the PRM Homeless Shelter. Great Huts was built firstly to provide housing for volunteers and staff who have varied expertise in areas such as nursing, psychological and social work. Daily projects such as chicken and goat raising and the planting of vegetable gardens are ongoing, and visitors are always welcome to participate in these activities with our residents.
Our "Healing through Art" program allows for quality time between volunteers and residents to produce crafts to be sold Craft Village in Port Antonio. This promotes regularity of activity, creativity and a wonderful opportunity for the residents to learn social skills while building confidence.
Many of Great Huts' Art and Film events are held to support the homeless at our Rehab Centre.  We have just founded "Cinema Paradise: Portie Film Festival" as a not-for-profit initiative with the goal of providing a sustainable yearly funding source in order to keep the shelter doors open and serve the growing needs of the homeless on the streets of Port Antonio.
On the environmental front, we are collaborating with the Alligator Head Foundation on community environmental awareness discussions and will be working on a Save the Turtles project in Boston Bay with the AHF this year. We are also working with the AHF on a longer sustainable plan for leading waste management projects and are seeking the best ways to deal with plastic pollution with our staff and community.
Great Huts was built and developed with a respect for its natural surroundings and to honor Jamaica's past. Our staff meetings are planned by Dr. Paul with discussions about these topics to promote care for our pastoral ecosystem and also to encourage our team to learn more about their African ancestry through discussion and guest speakers. During Black History Month, we extended talks to local community schools and have hosted children book readings to discuss culturally significant issues in Jamaica today.
What sets Great Huts apart from other hotels in Jamaica?
The essence of Great Huts is respect for Mother Nature and the celebration of African art and culture. Local handmade furnishings, masks, carvings, paintings and sculptures are intricately weaved throughout the property, showcasing the island's creativity and talent.
We are also the only resort that celebrates Jamaican and Afro-centric art and film with the staging of major cultural events. Since the inception of these programs almost 10 years ago, we continue to raise awareness, promote learning and encourage discussion through these mediums in our hope to inspire positive change in a small, but meaningful way and promote the immense talent of Jamaican writers, filmmakers, artists while providing forums for international connections.
Lovingly developed in respect of nature and artfully designed with an incredible social mission, Great Huts is undeniably the most unique resort in Jamaica. It is an off the beaten path experience for adventure seekers, glamping crowds, writers, art and nature lovers, natural health healers and enthusiasts, culture seekers, musicians, couples seeking a romantic getaway, and of course, yogis!
More and more people are looking for artisanal experiences, authentic Jamaica, to learn more about Bob Marley's teachings and philosophy, to connect with others to serve a higher good and to honor the past. Great Huts is a place to rejuvenate and return to nature as we encourage a restful time away from technology to get back to our inner selves. A must for us all. But we also provide modern amenities to ensure comfort and are close to adventurous activities like surfing, hiking and just steps away from the birthplace of jerk cuisine where lively discussions at the jerk stands await those wishing to connect within the local community. A favorite for females seeking to recharge and de-stress with the option of lively local experiences close by.
Great Huts is a one-of-a-kind, special place where spirituality, nature, heritage, artistry and comfort converge.
We fell in love with Port Antonio when we were there. What do you love most about living here? 
It is truly a special place on earth, and the favorite place on the island for most Jamaicans. Affectionately called "Portie", it holds a special place in the hearts of many because of its lush green vegetation, enchanting beaches, mineral springs and captivating rivers and waterfalls. Caribbean blues. Emerald, turquoise - hues so gorgeous, you feel like you have entered a place that must be protected. The rainforest setting brings us back into balance with so many treasures in the area. A place where the air is still clean. As you enter, the cluttered and stressed mind slowly starts to adjust to the natural vibration.
I have been driving in from Kingston weekly for the past 2 years, and feel the real change as I enter the Parish of Portland from the hustle of the city. It is truly Jamaica at its finest.
My most enjoyable and impactful childhood memories were made in Portland. Important family moments and experiences that will never leave me and gave me the courage to dream.
What are some of the best local spots in Port Antonio?
Safari Deck at Great Huts for Dr. Paul's veggie pizza, coffee, dessert and Saturday night African drumming and dancing. The Bush Bar at Gee Jam for the best steak in Jamaica. Italian Job in town for the best salads. Blue Lagoon for an early morning rafting and a swim around the mangroves. 
What's one thing everyone should do when visiting Port Antonio?

Reach Falls for the stunning drive and waterfall experience.
What is your favorite thing about life in Jamaica?

Waking up to the most amazing, peaceful and inspirational mornings, Jamaican breakfast with warmth and love of its people, abundant coconut water, the blessings you receive when interacting with anyone. 
Everyone that we met on our trip were such warm, beautiful souls -  what do you love most about Jamaican culture?
You pointed it out – the beautiful souls.
What does being a spiritual gangster mean to you?
Since learning about you, I am so impressed and understand why so many have felt akin to be a part of your mission. Your movement is designed to join ancient wisdoms with modern culture. At Great Huts, this is essentially what we aspire to do as well. Blessings to all who inspired and created you into being.