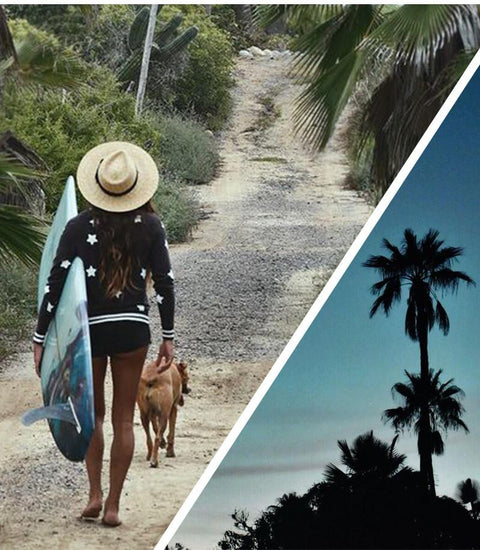 ETERNAL SUMMER WITH LEX WEINSTEIN
WHAT DOES A DAY IN THE LIFE OF LEX WEINSTEIN LOOK LIKE?
Every day is completely different which is super fun but also a little crazy at times! Usually I wake up early and do a meditation, chant or yoga immediately followed by a cup of very strong coffee (prob cancels each other out haha:) Then I check the waves wherever I may be..Australia, California, Mexico... and hopefully surf for a few hours. Then I hunker down on emails, photo editing and trip planning over a berry smoothie and lettuce wraps (my fav!). In the evening I usually go for a hike or another surf and try to capture some evening light photos when the sun has that super special glow and makes magical lens flares. A stretch and a glass of wine in the evening and I'm in bed with a book usually by 10! Such a granny..
Shop the Good Vibes Crop Tank in Indigo
WHAT ARE YOUR TOP 3 FAVORITE PLACES TO TRAVEL AND WHY?
Only 3?! That's a mean question! Haha. Well, I absolutely adore Mexico, Sri Lanka, and France because the surf and the food are amazing in all 3 (my top priorities). The people are also amazing and the landscape is breathtaking.
Shop the Vibe Tribe Dreamcatcher Raglan Tank 
WHAT DOES BEING A SPIRITUAL GANGSTER MEAN TO YOU?
It means owning your strength and not hiding your light. It means shining so bright you give others permission to do the same, and drown out the haters and the skeptics and the jealous. It means forcing positivity into the world with brutal force, being a sovereign of your emotions and a creator of your reality, and never being a victim of circumstance but a sorceress of your dreams and highest manifestations.
IF YOU COULD ONLY PACK 5 ITEMS IN YOUR SUITCASE, WHAT WOULD THEY BE?
Shop the Dreamer Stars Savasana Pullover 
Cheers,
Lex
@lexweinstein_