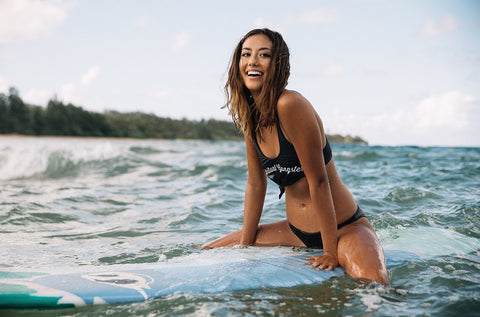 Hawai'i Bound With Malia Murphey
Your life looks like an absolute dream for island lovers. What does your typical day look like in O'ahu? Do you have any daily rituals?
I still have to pinch myself that this life I'm living is real, it still feels like a dream.  For me, when I'm home I enjoy spending quality time with family and friends.  If the waves aren't good for long boarding, you'll probably still find me at the beach, whether I post up all day or find time for a quick dip. One committed daily ritual for me is having coffee in the morning (whether I make some at home or go grab coffee with friends or do both).  Another ritual I try to stay committed to: always trying to make time for a workout.  I'll either attend a workout class near by or do an at-home workout.  Sweating always makes me feel better or doing something active outside such as surfing or hiking. Eating is one of my favorite rituals, especially at home I get to enjoy all my comfort foods such as fresh fish "poke," acai bowls and tons of fruit, not to mention all my fav food spots.
What's your daily wellness routine? Any advice for sticking with it? 
Ahhh, routine, something I still struggle to with. I'm going to be honest, because I travel so frequently, it's very hard for me to stick to the same routine, and then try and bring that routine with me where ever I may go. I start with taking my vitamins and supplements in the morning, most of which are immunity boosters and supplements my body needs, especially with all the travel. I also do a shot of apple cider vinegar (almost every other morning) and I take collagen powder in my coffee. Throughout the day, I always try to keep my hydro flask full, which is a great way to get your daily water intake—sometimes I like to add lemon too. I always drink a cup of tea before bed, normally I do a turmeric tea with honey and lemon. For me, coming home is like my reset button, I get back into my groove of eating healthy, staying active and keeping my mind, body and soul sane. Some advice to stick with routine is think about how it makes you feel, the outcome is worth it if you have a healthy positive routine that's beneficial for you and your body! You won't get anywhere in life without hard work and dedication and that's what sticking to a routine requires.
What do you love most about living in the North Shore? What are some of your favorite local hangs?
North Shore is my home.  The beauty, the beaches, the surf, the food, my family, friends, the culture…I could go on and on about why I love living on the North Shore.  Fave local spots to eat—lets start with @haleiwabowls, which is literally my daily pick me up.  You'll probably find me there at some point in my day. @pupukeagrill is another one of my all time faves, along with @ajilimotruck, @ns.shaveice and @coffeegallery.hawaii.  As far as activities, I surf, hike, swim, body surf, lounge at the beach all day, bike and workout.  Snorkeling at Shark's Cove happens a lot during the summer when theres no waves as well as rock running at Waimea Bay.  Living on the North Shore kind of forces you to live an active lifestyle yet also a cruise one, meaning reminding you to slow down and enjoy living in the moment and not to take things for granted. It's all about balance, there's so much beauty and nature around, it's impossible for me not to spend majority of my time doing things outside.
Okay, not trying to blow up your spots, but what are a few of your go-to surf destinations in Hawai'i? 
I love surfing Queens—it's one of my favorite waves ever, even though there's very rarely no one out in the line up, its still so much fun! My second favorite wave is probably Diamond Head when it's perfect for long boarding. And then, close to home, my go-to spot is always Sunset Beach when it's small and Puena Point when it's big.
What do you always keep in your beach bag?
Sunscreen, bikini, an extra bikini, towel, hydro flask filled with water, a healthy snack or 2 and sunglasses.
What does the spirit of aloha mean to you?
The spirit of aloha to me means giving without expectation, loving unconditionally and sharing that love and giving to others far and near to you.
What do you value most in yourself and others?
I value happiness the most—it revolves around who I am as a person and the decisions I make. I also value honesty, integrity and humbleness, and those individuals who remain true to themselves and each other, the real people. 
How do you raise your vibration? 
Living life to the fullest is my motto.  By doing so, I'm eating healthy with little to no processed foods, surfing every day the waves are good, keeping fit by participating in physical activities, laughing a lot, being surrounded by friends, family and loved ones, living a simple positive life.
What's the most impactful advice you've ever been given?
"You do you!"
What does being a Spiritual Gangster mean to you?
Being a Spiritual Gangster to me is someone who isn't afraid to be who they are.