Bright Beginnings Giveaway!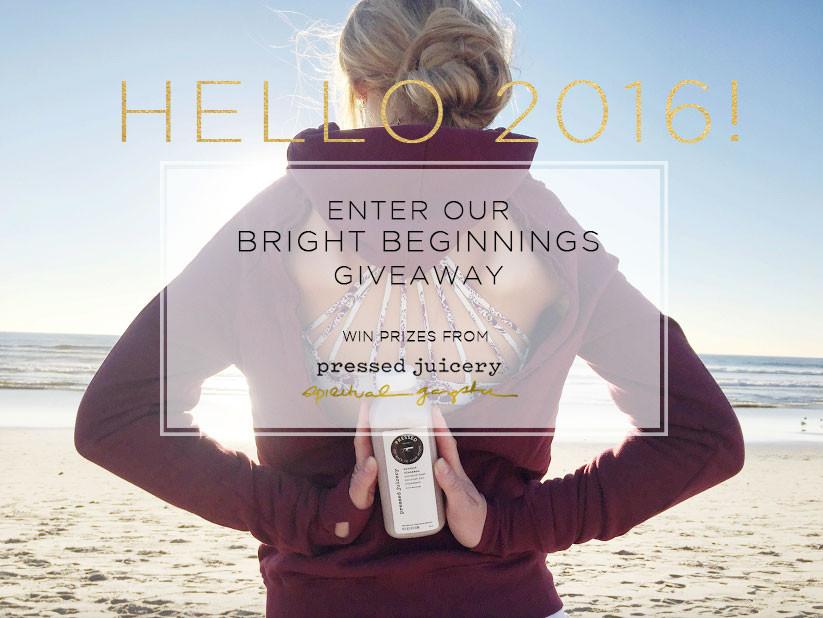 Image you are fresh and green like a spring blossom. In order to bloom into your brightest and biggest flower, you must have sunshine, water, and healthy soil. The start of the new year is like being back inside that pure green blossom. You have the power to make this year and your dreams bloom as big and bright as you can imagine. Like the flower, you need love, nature, healthy food, good energy, and positive habits to make 2016 the year of bright beginnings.  
Spiritual Gangster
teamed up with our friends at
Pressed Juicery
to bring you prizes that inspire, encourage, and elevate you as you start this new chapter.
We're kicking off the new year with a week long giveaway to help fill 2016 with healthy bodies and healthy souls. When we take care of our bodies, our minds and spirits are infinitely happier and healthier.  One lucky winner with receive a
$250 gift card to Spiritual Gangster
and a
5-day cleanse from Pressed Juicery
to cleanse impurities, increase energy, and motivate overall vitality!
Here's how to enter:
2.) Like and tag 3 friends who you'd love to win this prize!
3.) Follow @pressedjuicery and @spiritualgangster on Instagram
That's it! Challenge ends Friday January 8th, at 11:59 PM (PST). Contestants must follow all three steps in order to win. Winners will be announced on Monday, January 11th on Instagram.
 This contest is in no way affiliated or endorsed by Instagram.
Sending love and luck your way!