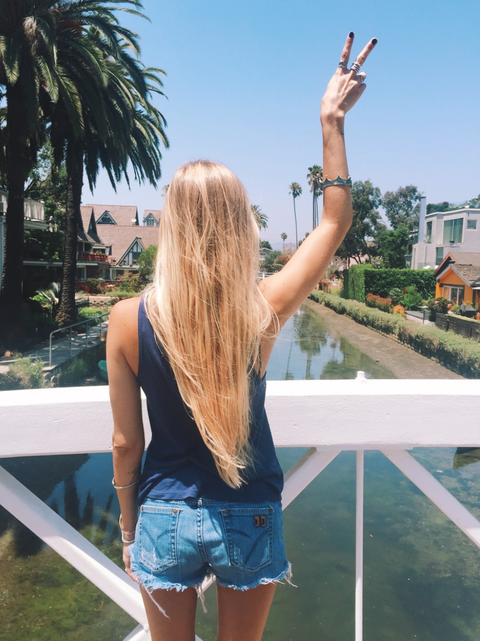 Naturally Nourishing Hair Masks
Our hair is an energetic continuation of our energetic bodies. When our hair is brittle, dry, and easily breakable, we are denying our self the natural flow of our life-giving energy. Our bodies are made to be healthy – to radiate, to shine, and to beam with health. Sending loving attention to your locks will help to keep them strong, healthy, and happy.
Here are three simple and easy at-home remedies for naturally healthy hair.
( SG Varsity Logo Muscle Tank)
Avocado + Egg Yolk
 Hydrate and Soften
Avocados are not only ridiculously delicious, they are also packed with powerful antioxidants like vitamin A, B6, D, and E, amino acids, copper, iron, potassium, and magnesium. This avocado mask is perfect for dry, dull, and frizzy hair that needs some serious TLC.
Mix 1 egg (yolk) and the meat of 1 ripe avocado in a bowl. Add a little bit of olive oil for texture. When fully mixed, apply to hair from roots to tips and allow to set for 20 minutes. Rinse completely with your favorite shampoo and conditioner.
Rose + Lavender + Coconut Oil
Pamper and Renew
Not only does this serum smell heavenly, it will leave your hair feeling light, fresh, and pampered. Rose and Lavender have healing qualities that will not only nourish your tresses, but be beneficial for your scalp and overall health.
Mix 3 drops rose water, 3 drops essence of lavender oil, and 2 tablespoons of coconut oil. Massage into your scalp for 5 minutes, working from the outside of your head to the center, and then working from the back of your scalp to the front. This helps trigger your hair follicles and can lead to more hair growth. Leave for 10-15 minutes and rinse out with your favorite shampoo and conditioner.
Honey + Yogurt + Cardamom
Clarify and Moisturize Oily Hair
Yes, this mask is definitely good enough to eat. Honey has naturally occurring antioxidants that help your hair glow with health and luster. The proteins and calcium from the yogurt helps to remove oil from the scalp and hair. Adding a little pinch of Cardamom adds a lovely scent that is energizing to the senses.
Mix 2 tablespoons of honey, ¼ cup of coconut yogurt, and 1 teaspoon of crushed cardamom. Stir until completely mixed. Apply to hair from roots to tips and leave in for 15-20 minutes. Rinse out with your favorite shampoo and conditioner.
Click HERE to shop our NEW Fall Collection! 
Model: Ellie of Heart Majestic