Meet Our Muse: Sophie Jaffe
Meet this week's muse, Sophie Jaffe. In honor of Mothers Day, we're excited to sit down with this mama of three, mental health advocate, and owner of superfood company, Philosophielove. She shares with us how she moves with intention, gives back with integrity, and infuses love into every aspect of her life. Check out her favorite high vibrational songs, workouts, and Spiritual Gangster picks below.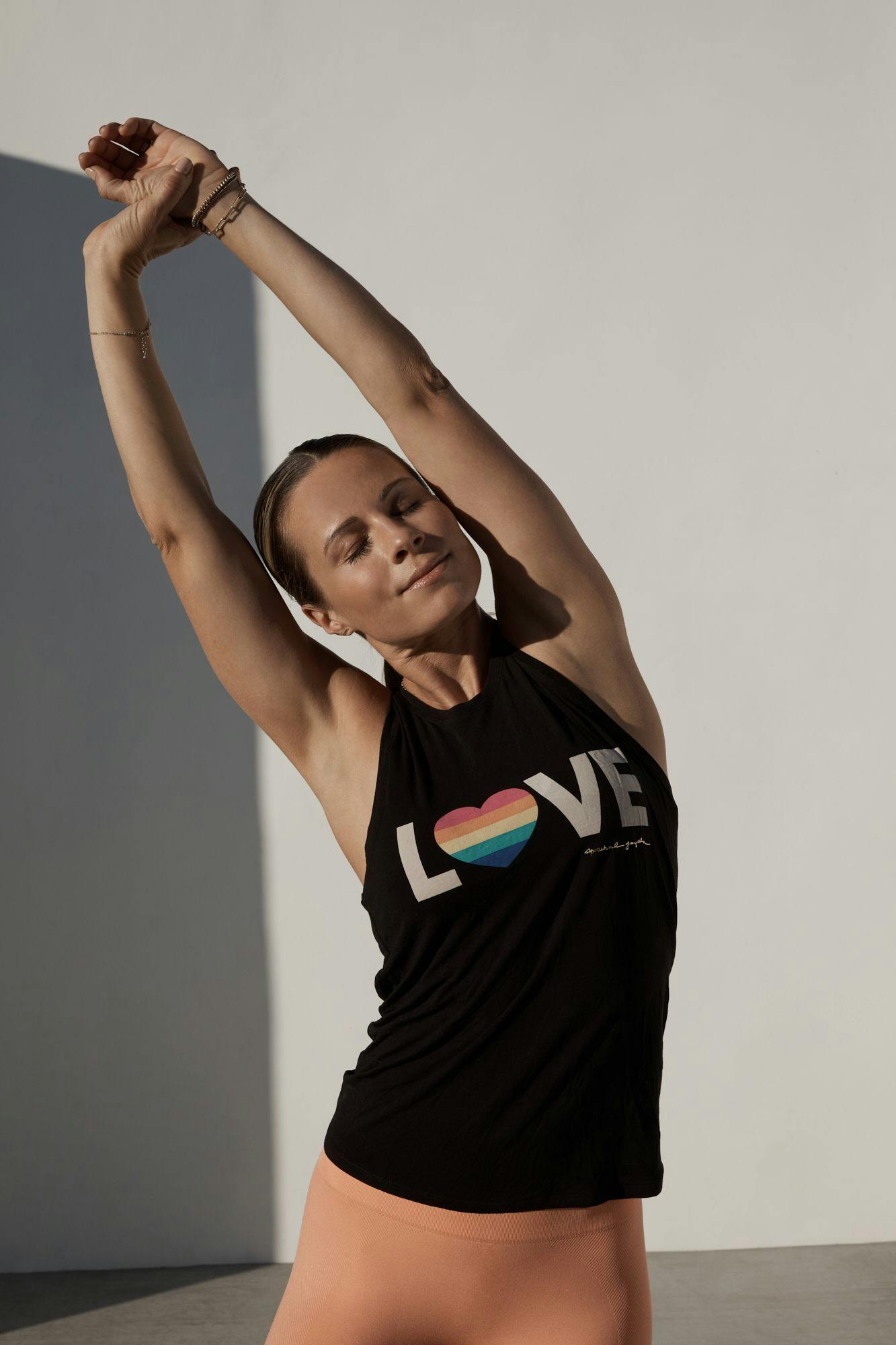 ,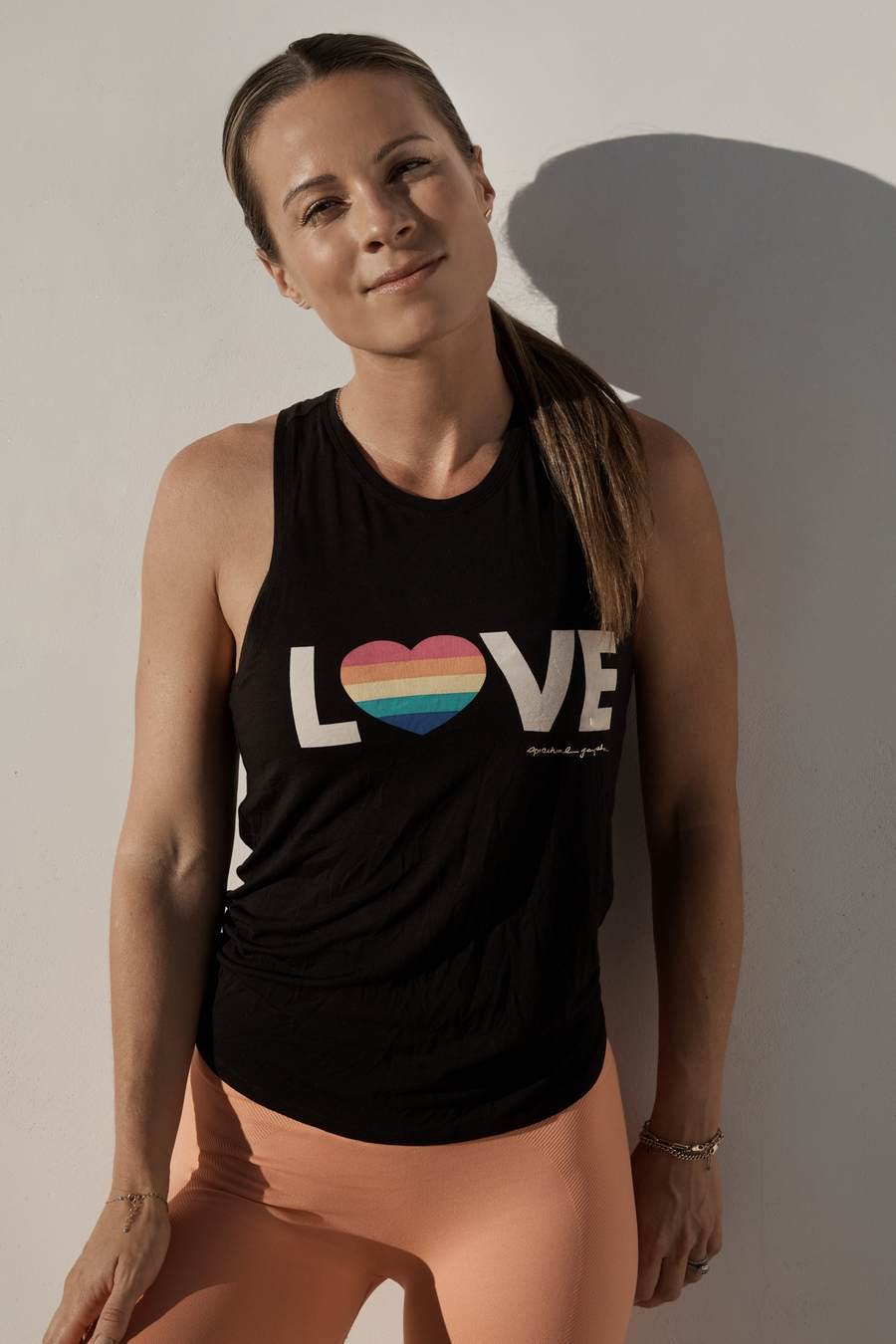 What is your history with yoga? Why were you drawn to yoga over other forms of movement? 
My journey with yoga began when I was 18 years old and had just moved to L.A. I stumbled into a power yoga class at the Hollywood YMCA and fell in love. During that year, I tried all different kinds of yoga styles, from Kundalini to Hatha to power to yin, and really loved the mind/body connection the practice created. Up until that point, I had only really moved my body for athletic purposes, so yoga really felt good for my skin and soul. I found a home within yoga and began to passionately study it, which lead to me becoming a member of the Yoga Alliance as an advanced teacher and getting certified by the National Academy of Sports Medicine as a personal trainer. 
You'd be surprised by how much muscle and body strength yoga can build - it's SO much more than flexibility and stretching! Yoga is harnessing all your power and strength. It has allowed a space for me to grow, evolve and transform. Bringing it ALL onto the mat and entering the space full-on has allowed me to greet every part of my true self. To feel all my woman power and let my light shine. Not only that, but I've found a community of supporters and soul sisters through my practice that will carry me through a lifetime. 
What or who "moves" you? Particular source of inspiration? 
My husband, Adi has been my champion and my partner in so many ways. My chosen family, my friends who are like sisters and my Philosophie and management teams. Most of all, my babes - Kai, Leo and Noa are my constant source of inspiration. I cherish the moments of being effortlessly sucked into their energy and the rest of the world falls away even if it's just for a short while. They are forever reminding me what's truly important in this life. 
There are people in your life who want you to be your best and demand it from you. They are not surprised by your wins and love to celebrate them. I'm so grateful for these precious humans who cheer me on and celebrate where I am going without jealousy or comparison. They see me, all of me, the whole version of me and want me to keep evolving and growing. The champions in your life motivate you to crave growth and expansion, but more than that, they love the whole version of you. 
What does being a Spiritual Gangster mean to you? 
A Spiritual Gangster, to me, is someone who finds ways to keep spirit and soul at their center, no matter what else gets in the way. It's someone who is effortlessly and consistently spiritual, soulful and full of heart. 
What mantra do you live by? Any new mantras of the moment? 
"I am abundant. I have abundance. Abundance is flowing." It's all a state of mind. If it comes to love, I am the most abundant creature that ever lived! 
What does being your own muse mean to you? 
To continue to live intuitively, high vibrational and my most beautiful, unique self and not let the world dim my light. To continue to show up to everything I do as authentically as I can even if that means breaking the "rules." To continue to be present to and nurture all the relationships that fill me up with so much love and joy. 
How do you align your mind, body, and spirit? 
I embrace every moment as it comes. In total times of stress, I stop everything and S L O W down. I believe that feeling good (feeling nourished, healthy, vibrant, and self-empowered) is what fuels us to work to be better people—better mothers, wives, sisters, friends, and active contributors to our world. I do my best to make time EVERY DAY for self-care and nourishment. Whether it's 10 minutes in the morning before the kids wake up or at the end of the day when they're all asleep. Check-in with myself and my body throughout the day by asking, "what do I need at this moment?" I fuel myself inside and out with yummy workouts and Philosophie superfoods, so I can live through it all abundantly. 
How does yoga influence your daily life? 
Yoga continues to play a huge part in my life. It centers me and grounds me no matter what's going on. I use mantras to help me focus on gratitude and to help me stay in alignment with my TRUTH and AUTHENTICITY. 
What is your greatest life lesson? Any lessons learned from the past year?
In my early years of leaving a vegan diet, I received a lot of hate and it's helped me build up a thick skin and was one of my first journeys in embracing a life of radical transparency and tapping into my intuition to guide me. Since then, I shared my story of cheating and breaking through barriers and continue to share my views on politics, human rights and more on my public platforms. I share so much in my community in part to free myself but also as a hope to show those who may find themselves in similar situations that there's a way to the other side. I'm a real person and I'm a mother. I make mistakes, have opinions and I'm learning every day. I share my heart and soul in public spaces because it's what aligns with ME. 
How do you practice self-love and self-acceptance? 
I celebrate the way I show up fully for the humans in my life. Find so much love and gratitude for my strength in all that I've been through and for continuing the hard yet rewarding work on myself. I let my intuition guide me and choose to show it in love and focus on how I FEEL. My body is my body and it will continue to be mine with zero shame or hiding from anyone in my life that's super intimate. I've worked a long time to unlearn bad habits, shame, embarrassment, sexual abuse + trauma... and I will be celebrating that healing til the day I drop dead. I practice self-love in moving my body on a daily basis, in feeding myself with whole, nutrient-rich meals full of superfoods, in choosing authentic relationships and releasing those that no longer serve me, and in showing up to every facet of my life with love. 
Any advice can you share on how to stay active? 
During the warmer months, I love outdoor HIIT workouts where I can enjoy the beauty of nature while getting a good sweat. I also love a long hike. It is great when I feel I need to get away for a bit. I also enjoy a mix of plyometric, strength-building circuits and I love to lift heavy weights when I feel energized to do so. I'm always mixing it up and wouldn't have it any other way. Like everything in my life, movement and working out is something I do intuitively - some days I'll do a 2-mile run and do strength-training circuits in my garage, or other days I maybe do a 10 min. yoga flow or just a gentle walk around my neighborhood with my family. 
What song or artist gets you moving? 
Music helps me flow through my day and I use it to spark inspiration or feeling I want to create. When I want to exercise and have a better workout, I put on dirty rap music to instantly feel stronger and motivated. When I want to feel embodied in my feminine (most of the day I'm in my masculine energy so I want to rebalance) I put on one of my yoga playlists on Spotify under Sophie Jaffe/ PhilosophieMama. Some artists I love are Riyoon, Krishna Das, 16BL, Sol Rising, Rhye, Glass Animals, Bon Iver, and Surfaces. Putting on this kind of music makes me flow, feel beautiful, sensual, and balanced. It allows me to access creative juices and feel more myself. 
Any advice for entrepreneurs or those thinking about launching their own business? 
Find your passion, something that fulfills you, something that challenges you, something that springs you out of bed and into the world. And, fill your life with people who give you energy, who support you in your mission, and who will be there for you on darker days, as well as the brighter ones. 
What is your favorite piece from Spiritual Gangster that helps you move? 
Currently loving the Love Dream Tie Back Tank, Wide Rib Scoop Bra, and Love Sculpt Seamless Legging. These pieces inspire me to push myself and take more risks in my workouts and practice.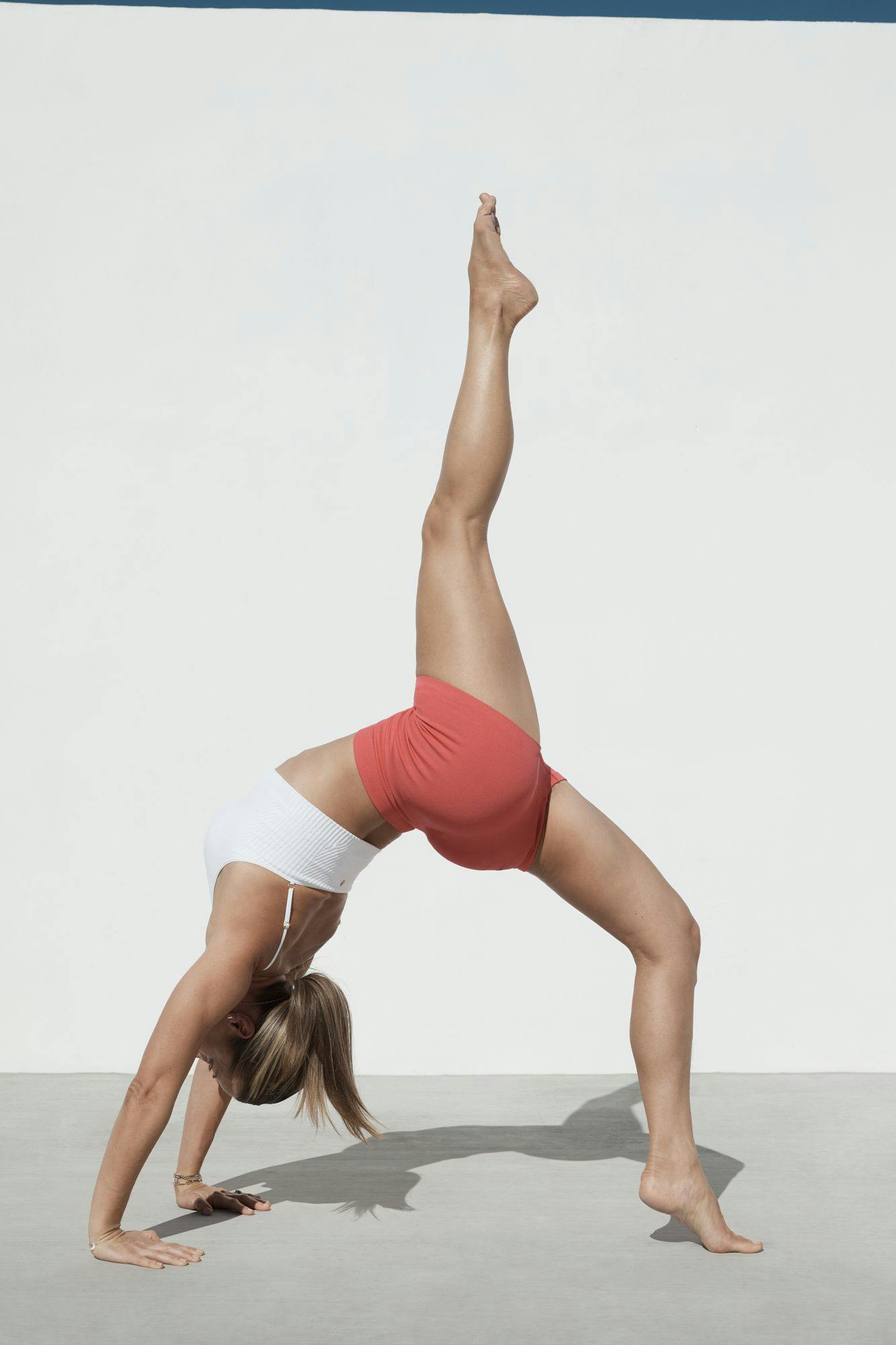 ,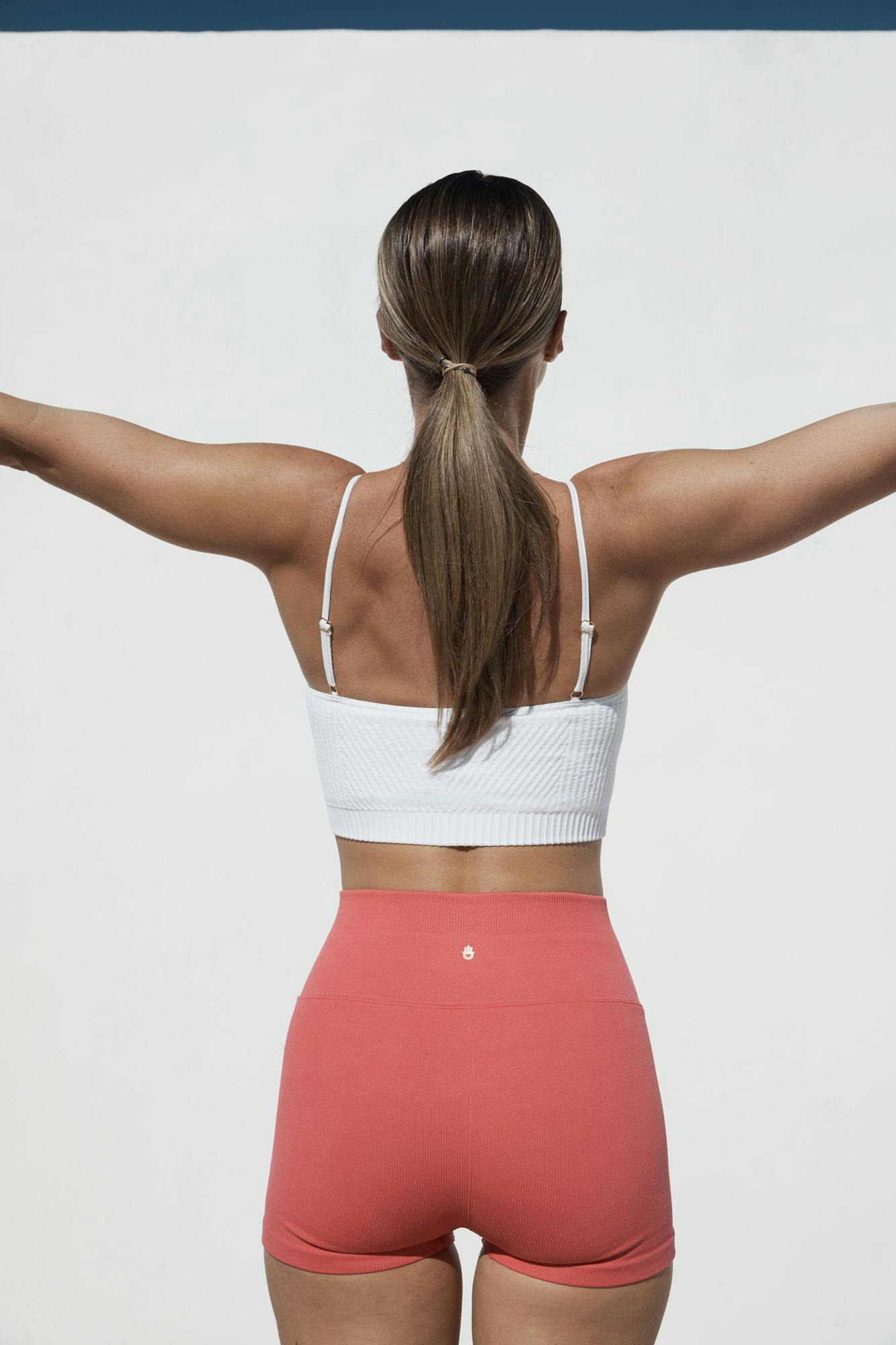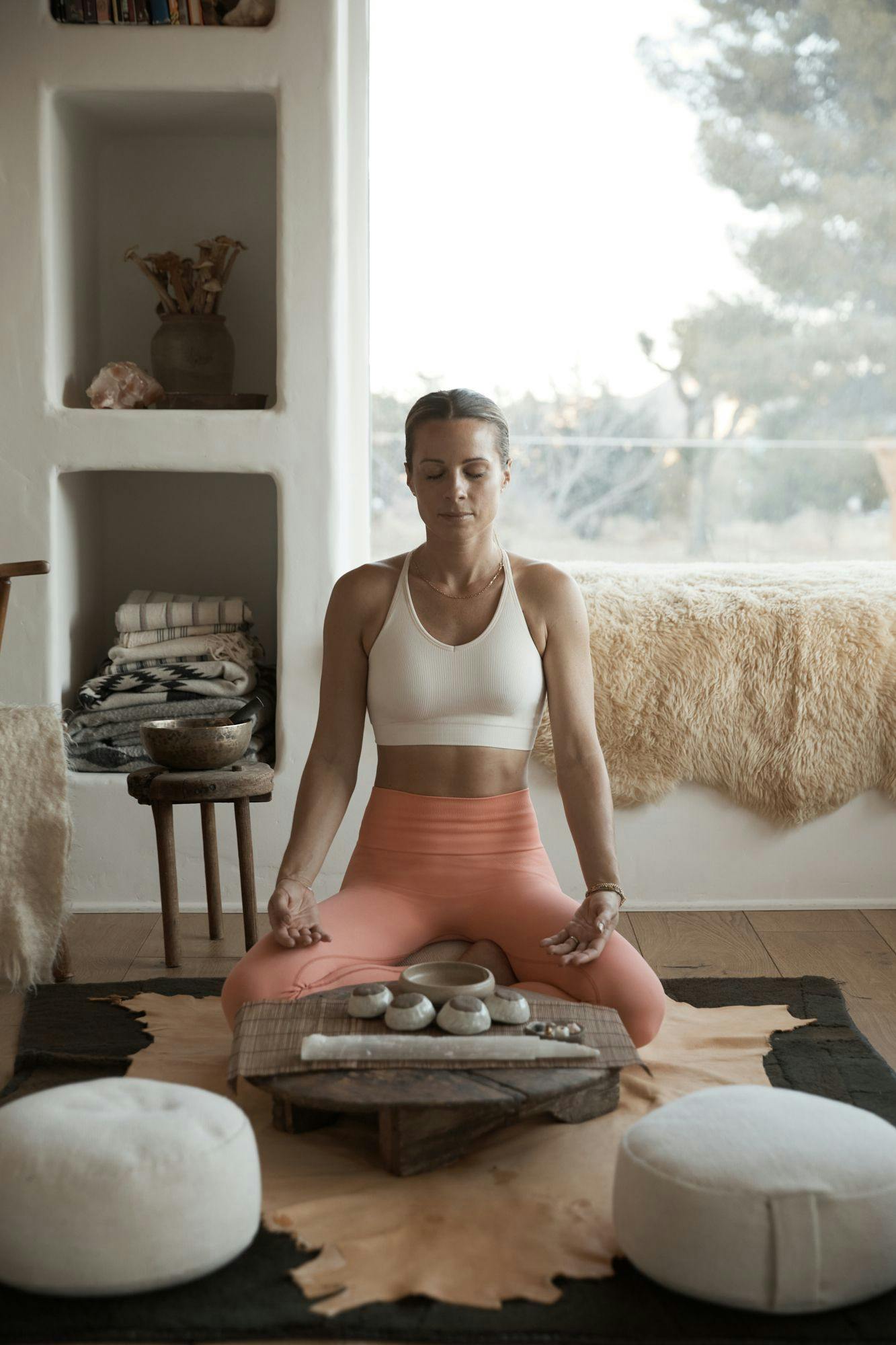 ,