Meet Our Muse: Quincy Davis
Meet Our Muse Quincy Davis @quincydavis! A surfer, entrepreneur, and wellness activist, she truly inspires us on a daily basis. Read more about Quincy + learn why we adore her!
You have had such an amazing surf career. How did you get into the sport?
My whole family surfs so my parents and my older brother would take me out in the water with them. I loved playing all sorts of sports and loved the beach so it happened pretty naturally. 
What is your favorite part about surfing?
I like that it really takes you in into the present moment and is always changing. Every session is different because the waves are always different. 
Surfing seems like such a spiritual practice to us with the need to surrender and be in flow.
Yes it really does, and I love that part about it. The ocean is humbling and ever changing which keeps you on your toes and present.
We absolutely love Montauk and find living by water to be so inspiring. What is your favorite thing about living at the beach? 
I am extremely lucky to have grown up here and live minutes from the ocean. Montauk is surrounded by water which is also pretty unique. 
You have such an incredible shop, QUINCY, with amazing fashion and beauty pieces. What got you into fashion and beauty?
My mom has always been into fashion and loves an occasion to dress up. I would say we bonded over that and always exploring cute shops when we traveled. She also loves to travel and brought us on trips since we were very little. I was fortunate to travel at a very young age and throughout my surfing career. I love discovering new lines and styles wherever I go.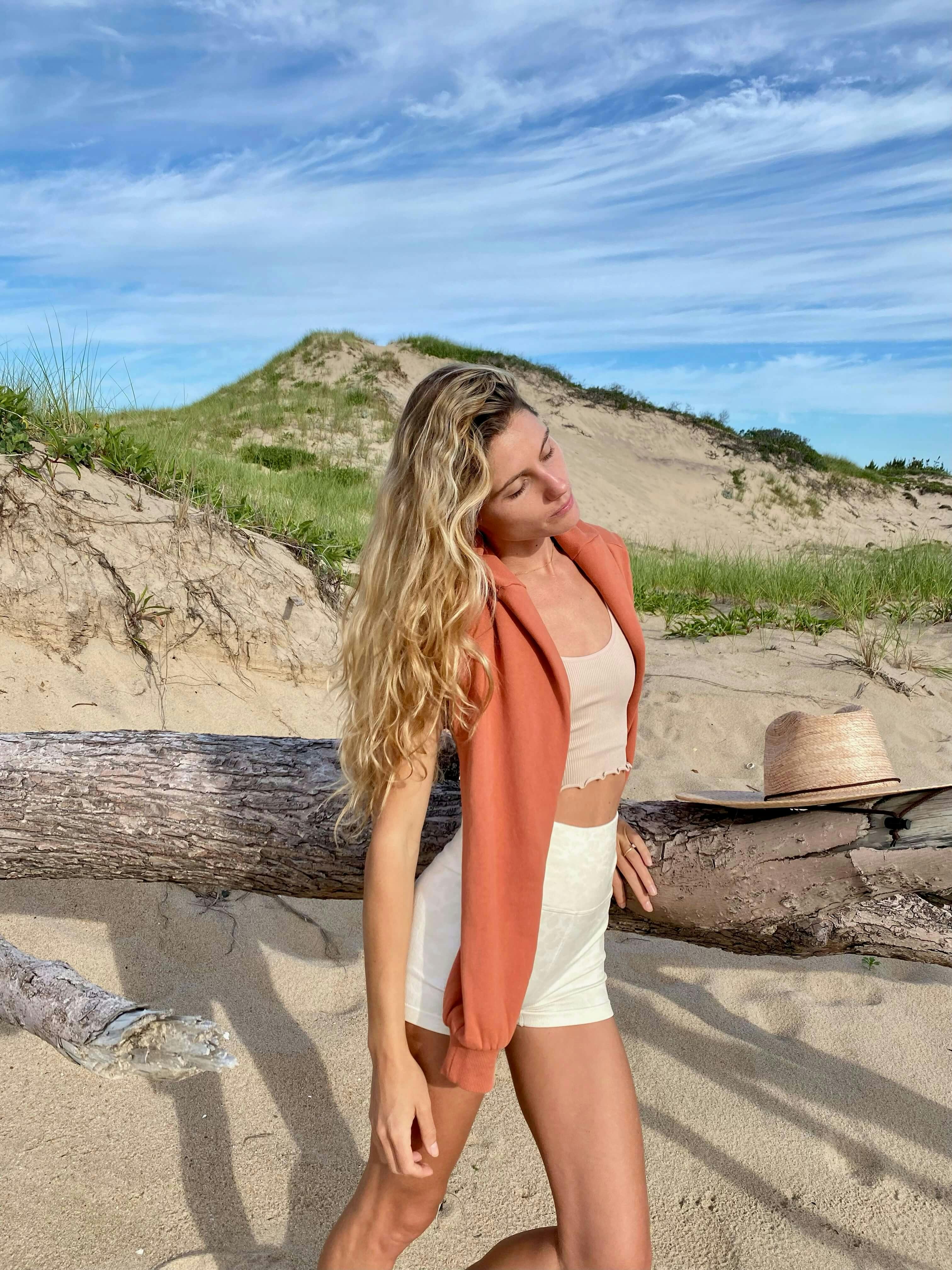 How would you describe your style?
A cool classic style is what I strive for. I'm a casual surf girl at heart so bikinis are in heavy rotation. As I get older I lean towards classic pieces with lasting power. I just want to spend summer running around outside in the sun, surfing, long beach days (when I am not at the shop) and having fun with my friends. So any pieces that fit into that for me is like easy loose vintage fitting denim, swimsuits and pretty maxi dresses to throw on after the beach to go to out to dinner, and some classic cropped tees and tanks.
In addition to your beautiful shop, QUINCY, what are some of your favorite spots in Montauk?
I like to hang at Terrace, Marram has great coffee/pastries. Crows Nest is beautiful and of course the food is amazing. I love the dock area as well. 
What is your favorite way to decompress?
Go for a swim or surf. Also just relax at home on the couch with my fiancé and dog and watch a movie.
Do you have a morning routine? If so, share with us what works best for you! 
Not necessarily, I like to have some sort of tea or coffee in the morning always. On an ideal morning I will walk my dog on the beach, surf or do some sort of workout before going to the shop. 
What is the greatest lesson that you've learned in the past year?
Take advantage of downtime to rejuvenate and relax. The past year has been filled with lots of exciting things and new adventures so I have been busy! Taking those small moments to relax, have fun and center myself are really valuable to me. 
Current favorite workout? 
Walks! Haha I have sorta been in a workout lull but I am sure I will get back into it. I just try to stay active outside, walking or surfing. 
What does being a Spiritual Gangster mean to you?
Practicing self love in any way that works for you and that can be totally different for somebody else. There are no rules! 
What are your favorite pieces from Spiritual Gangster? Anything someone who never tried the brand might be surprised by?
Spiritual Gangster has been the coziest line since forever! I have always gravitated towards the sweats and activewear. The activewear is so soft and it's what I always grab first to move in.