Healthy Recipe: Gluten Free Ice Cream Cake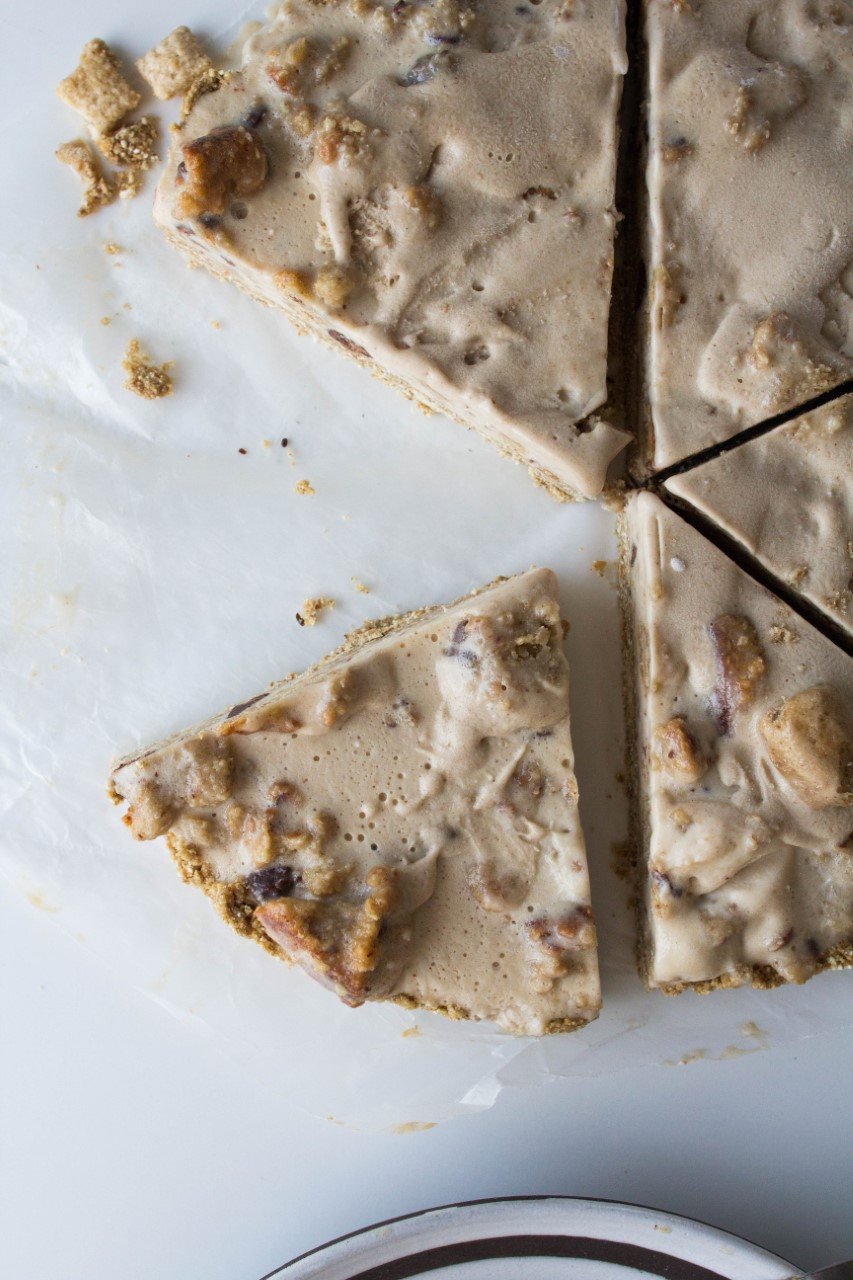 There are so many different ways to raise your vibration. From traveling to new places, experiencing new people, practicing meditation, and eating wholesome food, we can uplift our energies by our mental, emotional, and spiritual experiences. We loved catching up with healthy chef Lee Tilghman, who raises her vibration by creating delicious and healthy recipes that are good for the body and soul. We spent a morning in her Los Angeles kitchen, creating a deliciously decadent gluten and dairy-free dessert that we're excited to share with you here.
Cookie Dough Ice Cream Cake (GF)
Decadent, creamy, crunchy and gluten free, this recipe is sure to raise your vibration and satisfy your tastebuds. 
 ●  3 cups gluten free granola (I use Purely Elizabeth's Probiotic Maple Walnut and Van's Gluten Free Cinnamon Squares)
●  1⁄3 cup coconut oil, melted
●  1⁄2 cup quinoa flour
●  1⁄2 cup almond flour
●  1⁄2 tsp baking powder
●  1⁄4 cup vegan chocolate chips
●  1 tsp salt
●  3 tbsp vegan butter (I use soy free Earth Balance)
●  1⁄2 cup raw sugar
●  1 egg
●  1 pint non­dairy ice cream (I used So Delicious Vanilla Cashew Ice Cream)
Preheat oven to 350 degrees F.

Place your pint of non dairy ice cream on the counter to thaw.

Blend your gluten free granola and melted coconut oil together for a few seconds until sticky.

Grease a 10" pie pan with coconut oil and press the crust down on the bottom and up around the sides. Place in freezer to set while you make the cookies.

Place the quinoa flour, almond flour, baking powder, chocolate chips, sugar, butter and salt in a big mixing bowl and mix well. Add egg and continue mixing until cookie dough texture is achieved.

Roll cookies into a ball and place them on a parchment paper lined baking tray.

Bake for 20 minutes or until slightly golden brown. Remove from oven.

At this point, your ice cream should be getting nice and melty. If not, place it on top of the oven while the cookies bake and it will melt faster. In a big bowl, pour the ice cream out and break your cookies into the ice cream. Mix everything together well, while still leaving chunks of cookies (that's the best part). 

Next, remove the pie crust from the freezer and pour your melted ice cream/cookie batter over the crust. Let set for 1 hour or overnight.

Let thaw for 10 minutes before serving/cutting into.
 Shop more from our NEW Fall collection here!