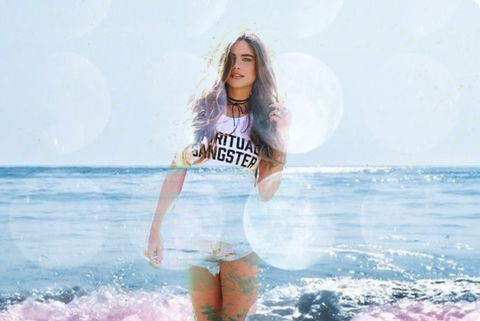 Star Gazing
You are the whole universe in one drop.
-Rumi 
(Blogger Jaime Kidd in our Starry Logo Muscle tank) 
When we look to the night sky, we can see our own brilliance and infiniteness, and at the same time our immense humbleness that comes with being human. We are both human and divine. The stars are a beautiful reminder of this balance….that our infinite power and love spans deeper than the deepest milky way, yet we are but one star in a galaxy of millions. We are each as special, as bright, as powerful as every star in the sky; it is what we decide to do with this unique light that makes the world a better place.
(Jamie in our Star Print Muse Pullover )
Looking out over the entire city, blogger Jamie Kidd took us along to her favorite star gazing look-out, The Griffith Observatory 
(Featuring our Moon Arrow Harem Sweatpant )
Shop more from Jamie's star gazing adventure here.