Food for the Soul: Healing Grain Bowl from Candice Kumai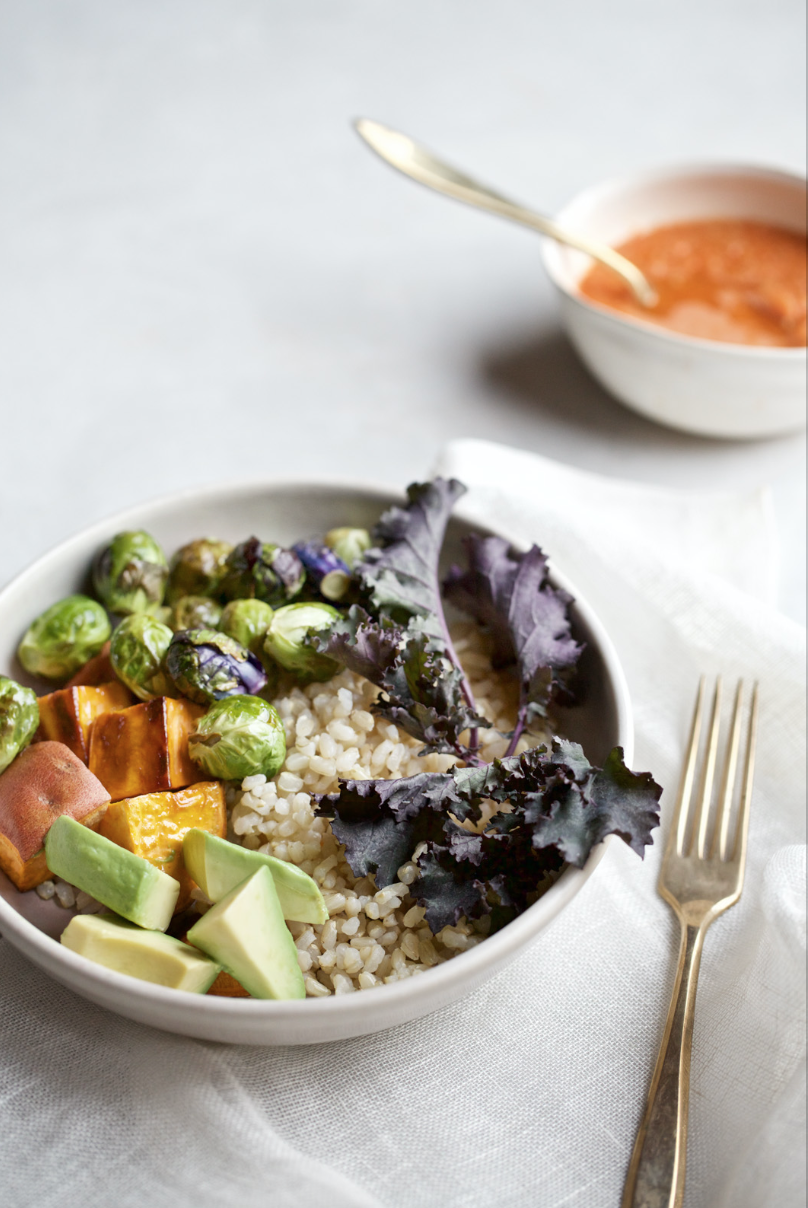 The ancient practice of yoga helps to heal our muscles and our minds. By calming the nerves, cleansing vital internal organs, not to mention inducing a healthy dose of endorphins, yoga can transcend your physical and mental moods and abilities. 
Just as yoga is food for the body, food is yoga for the body....a chemically induced practice that can elevate your mood, make your skin supple, hair shine, raise energy levels, and help you reach your highest potential.
Food can have an incredible healing effect on our bodies. Many ailments are directly connected with the kinds of foods we consume, and the way in which we consume them. So we asked our favorite chef
Candice Kumai
to share one of her healthiest and healing winter meals.
Sweet Potatoes and Carrots:
For sparkling, beautiful eyes look no further than nourishing vitamin A and beta-carotene- packed sweet potatoes and carrots. Incredible for eye sight and overall eye health, sweet potatoes and carrots are also wonderful for nourishing the liver, preventing lung cancer, and helps slow down the aging of cells with their
 high levels of beta-carotene, which acts as an antioxidant to cell damage done to the body through regular metabolism. 
Avocado: Packed with more potassium than bananas, loaded with heart-healthy monounsaturated Fatty Acids, fiber, and cancer-fighting antioxidants, avocados are a simple stable to add to any dish, no matter the season. 
Brown Rice: As one of the healthiest grains in the world, brown rice is rich in manganese, selenium which helps lower the risk of colon health, and metabolism boosting fiber.
Roasted Sweet Potato Avocado Bowl with Carrot-Ginger Vinaigrette
_______________________________________________________________________________
Serves 4
Ingredients:
6 cups cooked brown rice (about 3 cups uncooked)
1 cup shredded kale
1 cup roasted sweet potatoes, cut into 1 inch cubes
1 ripe avocado, pitted, peeled, and cubed
1 cup leftover roasted vegetables (optional)
Carrot-Ginger Vinaigrette
3 carrots, peeled and roughly chopped
2 tablespoons yellow onion, roughly chopped
1⁄2 cup rice vinegar
2 tablespoons reduced-sodium tamari soy sauce
2 tablespoons water
2 tablespoons peeled and roughly chopped fresh ginger
Directions:
In each of four individual serving bowls, add 11⁄2 cups brown rice. Top each with an equal amount of avocado cubes, sweet potato, shredded kale, and leftover roasted veggies, if available.
For the vinaigrette, combine all of the ingredients in a blender and blend until smooth.
Top each serving bowl with 2 tablespoons of the Carrot-Ginger Vinaigrette and mix with a fork, serve at room temperature, or heat as desired. Devour and appreciate every last bite! If you like this recipe? Please check out my new and delish book: 
For more amazing healing recipes check out Candice's cook book Clean Green Eats!