Solstice Vibes with Sunday Forever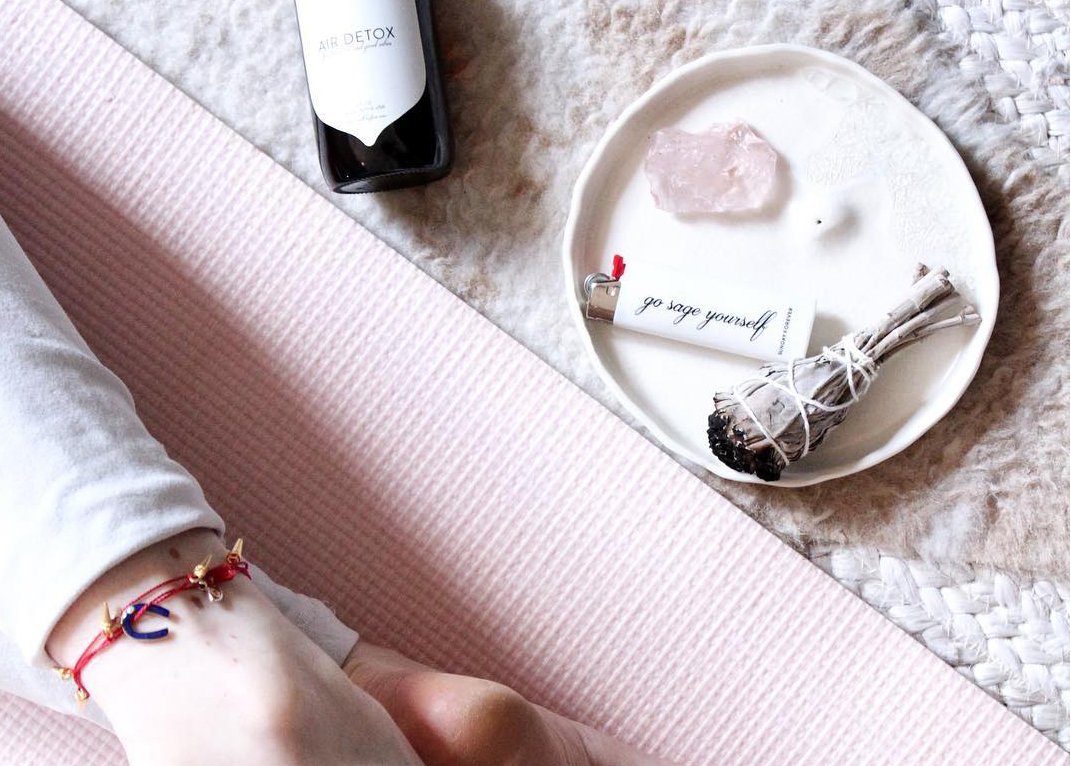 Solstice Vibes with Sunday Forever 
The longest day of the year is here, which means it's time for a season of lazy beach days, BBQs and catching up on some long overdue  summer reading. Setting intentions and checking in with yourself are always great ways to kick off the new season, but it doesn't end there. We asked the founder of  Sunday Forever and one of our favorite leisure enthusiasts, Ashli Stockton, to give us the rundown on bringing the vibes into your home, their perfectly packaged goods and how to cleanse your home and harness the energy of the sun now that summer is in full effect.
You initially launched as a line of kimonos; what inspired you to expand Sunday Forever into a high vibe lifestyle brand? 
I knew I wanted to created items I love and use. In addition to the continuation of my kimonos, I knew I wanted to continue creating items with intention and quality. The candles we make are incredibly high quality and are on par with other high-end luxury brands; they aren't overbearing when it comes to the scent load and the price point is genuinely based upon our quality, ingredients and labor. I've always taken my candle game seriously and it was tough, if not impossible, to find candles that didn't give me a headache. When I found myself burning unscented pillar candles, I knew there was something I had to do about it. Thanks to this experience, we've created, "lightly scented [candles] loaded with ambiance." 
How did you first get introduced to sage, crystals and astrology?
I started smudging when I worked at a high-stress corporate job – it wasn't so much the "job" itself that stressed me out but the energy around me. In an effort to alleviate the stress, I began researching and came across sage. The first time I ever smudged was at my office. I remember thinking it smelled like weed and figured I was breaking some type of fire hazard – that's how I created Sunday Forever's Air Detox Mist. The experience is similar to sage smudging but is smoke-free. I can't remember what brought me to astrology – probably reading Seventeen magazine in middle school.
Regardless, about eight years ago I saw my first astrologer and my life was changes; I was hooked. When it comes to crystals, their aesthetic and beauty is what drew me in. It's hard not to dive deeper and deeper into the realm of sage, crystals, astrology and all things mystic.

A lot of people know celebrate the summer solstice with a ritual; creating altars with flowers and incense, deep cleaning their space with sage, etc. What home rituals do you have for the summer equinox?
I'm a sucker for a good cleansing and a fresh start. I always have little altars all over my home and office. For something like the summer equinox I'll freshen them up with a new selection of freshly cleansed crystals, tiny vases of flowers, some fresh lemons and some of our Le' COCO coconut incense. Then I'll smudge my spaces and add a freshly burnt bundle to the altar as well. I tend to do a longer than usual reflection or meditation - setting intentions, taking a mini-inventory and visualizing how I'd like to see things come to fruition. 
What's the most important thing someone needs to reset the energy in their home?
I'll share what I do, which is a BUNCH of things - I'm all about a switch over and a re-set. Here are some things you might like to do…   SMUDGE, SMUDGE, SMUGE. Get all the nooks and crannies of your home; inside cabinets, your closet, under your sink, your pantry, everything! Fresh flowers can be hard to maintain but it's SO incredibly important to have water and greenery in every room - it brings life and freshness to any space. I like to fill vases, or even little jars, ones you might normally toss in the recycling, with water and fill them with greenery, trimmings or leaves that will live for a long time. Some places to start: pothos, snake plant, iron plant, palm leaves. These guys last for a long time. Just change out the water from time to time. Fresh begging is a game changer. We spend precious time in our beds and getting a fresh set of sheets and pillowcases make all the difference.
What is one home essential you can't live without?  
Besides my kimono and candles… I'm in love with my Buffy comforter. It's a game-changer.   
What's your favorite Sunday ritual?   
Watching CBS Sunday Morning in bed with my husband and two dogs while having coffee. In a world that is so uncertain, that moment is incredibly precious and happens EVERY. SINGLE. SUNDAY!
And your favorite summer scent?
Duh! Our COCONUTS perfume… and I'm not just saying that. It took over 2 years to develop with my friends and master perfumers from The Society of Scent and I am still every bit in love with it almost 4 years later. I leave a cloud of coconut everywhere I go. Imagine a chic summer vacation - no fruit just luxury. OMG.