Om For The Holidays With Goldfish Kiss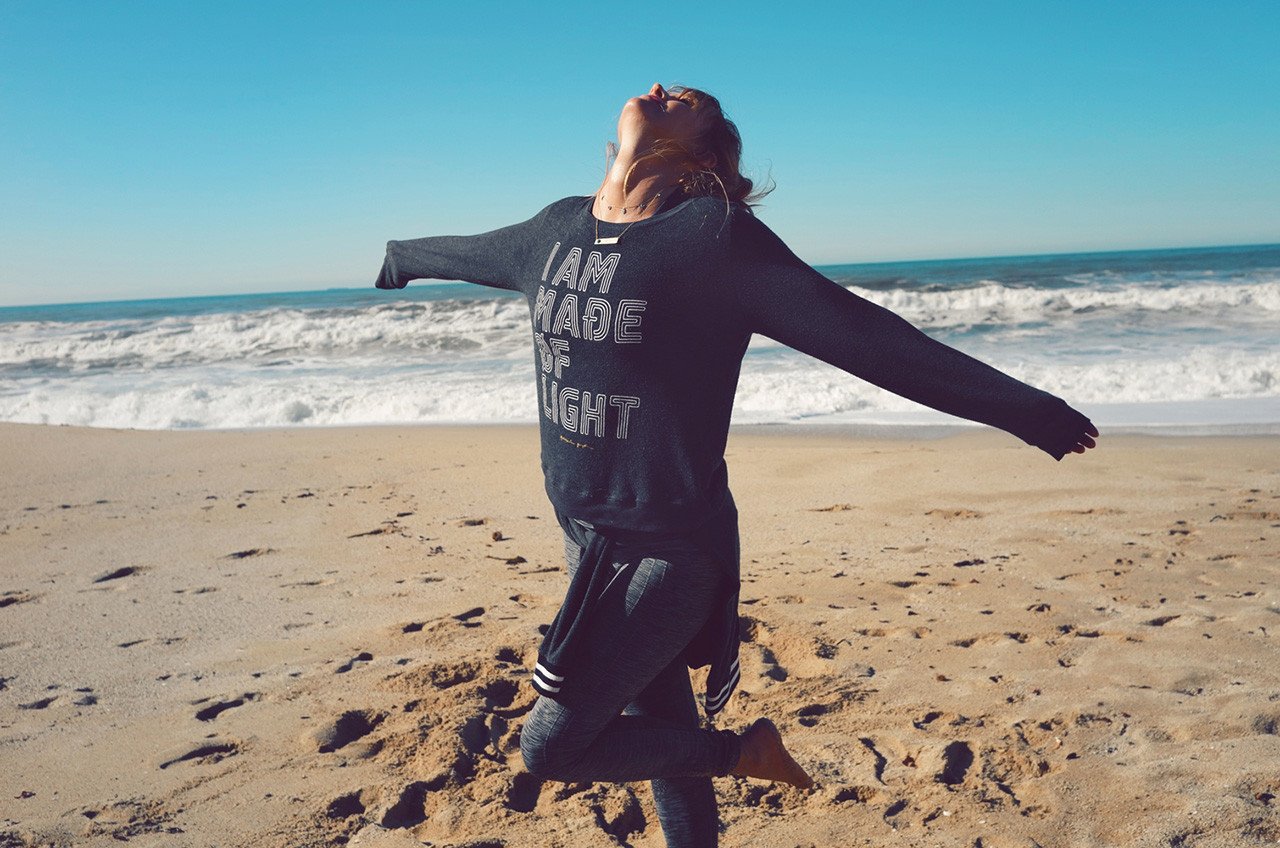 There's something magnetic about women who only shine brighter when balancing motherhood and staying connected to their truest self. Writer, artist and mother of Levi, Rebekah Steen a.k.a. Goldfish Kiss does just that. Naturally, we thought she'd be a beautiful soul to ask for guidance on finding moments of zen during the holidays. We'll let Rebekah take it from here.
One Holiday tradition I have, is wrangling up the fam and attempting to get a group shot…using auto timer. Having an impatient husband, an extremely exuberant puppy, and a squirming toddler in the crew (last year it was a crying baby. Equally as photogenic), I'm realizing this feat is nearly impossible.  
But I still love the outings, attempting to nail the shot, and when it comes down to it, just spending time at my favorite place, with the ones who fill up my heart, is what it's all about. 
So, first off here are some of the pics. Aka outtakes that aren't auto timer group shots. Here's one auto timer group shot in there just for kicks. Levi's hair is covering his face, I'm not looking at the camera, my husband still looks handsome (as usual), and Kili ran off out of the frame. Winning.
But really, we really are winning. Because this time of year isn't about being perfect, and stressing out over to-dos and the perfect picture. It's about quality time with the ones you love. And just, you know, breathing, feeling alive, laughing, connecting, and being festive, yet at peace. 
So, on that note, I wanted to share a few random thoughts that totally help me do that. (I even made it into a little memo that you can print out or share as a little reminder during the next month or so) 
Here we go….
• It is perfectly normal to binge watch Holiday Rom-coms. In fact, it's encouraged. Same with Christmas Vacation, which I have memorized. At times I feel like I am part Grizwold.
• There's nothing wrong with a home made gift or something that doesn't cost a fortune. They kind of are the cream of the crop.
• Less is more. And really, it seems like nowadays we all are just craving time to connect, undivided attention, and love. 
• If you have one MUST DO - Make it to volunteer somewhere, pay it forward, or do random acts of kindness as much as humanly possible.
• There's no better way to feel great, and totally embrace the Holiday spirit than doing something for someone else. Winston Churchill said it best, "We make a living by what we get, but we make a life by what we give."
• Party dresses, sequins and looking all dolled up get all the buzz, but let's face it. 'Tis the season for comfy clothes, top knots, warm beverages, and slippers.
• One of my favorite things about this time of year is how many ways you can break the routine, or monotony of life. It's the season of spontaneity. Meet a friend for a saucy holiday coffee (no phones allowed unless you are showing off pictures or looking at puppy videos) bundle up and go for an impromptu beach walk, make any excuse known to mankind to go surf, get as much hot yoga in as possible. You get the point. 
• There's just something in the air this time of year. Like it has molecular twinkle lights in it or something . Try to get out to it as much as possible.
• Don't beat yourself up if you don't get a perfect picture for your Holiday card. And just end up posting a fuzzy group selfie somewhere. 
• Remember, when it all comes down to it, it's about peace, love, relaxing, and finding joy in places you didn't even realize.
Love and light,
Wearing:  Rebekah - Made of Light Savasana Pullover // Grant - SG Varsity Crew Sweatshirt // Levi - Hamsa Eye Zip Hoodie And Grateful Thermal