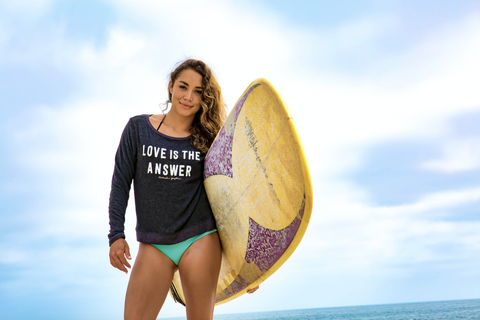 Nourish and Renew with Moni O'Dell
Summer is a beautiful time to step back and take a mental and spiritual break from our routines. It's a time to try something new, travel to a new place, and take a look at where we have grown. Summer is also a great time to detox the body; eating lighter meals, wearing less makeup, and using less hair products. We sat down with detox nutritionist Moni O'Dell as she shared her best tips for detoxing and renewing the body and soul this summer. 
What does a day in the life of a detox nutritionist look like?
Mornings are my favorite time of the day.  It's a time when I'm gentle with myself, to feel grateful for another day.  I set an intention for the day, I always give myself an hour before I need to leave my house to properly nourish myself before stepping out into the world.  I have a morning ritual that I follow every morning, I include this same ritual into the lives of my clientele as well - each of us should have a morning ritual that is unique to our needs.  
I meet with my Clients at the Newport Lido Medical Center at the Restore Rehabilitation Performance Institute - each client has a program designed to help them live their best life.  I approach each of my clients with a full all inclusive concierge approach therefore I provide detoxification, nutritional advising, grocery shopping, guided meditations, guidance on non-toxic products, personal training, yoga and holistic health therapies such as acupuncture, aroma therapy and energetic work.  I am currently learning to become a plant based chef where I will add that skill set into my program and provide nutritious meal plans as well. Every day is different for me, I feel so blessed to spend quality time with each client multiple times a week guiding them to establish healthy habits and happy lives.  
How to detox your soul?

Detoxing isn't just about cleansing the body, it's about cleansing the heart and soul too.  Take time everyday to connect with yourself, release negative thoughts and emotions that no longer serve you.  Cleanse toxicity from your life - negativity of all forms.  
It is very important that you take control of your happiness and build a positive and supportive foundation for yourself.  Are all of your relationships healthy, positive and supportive of your growth and goals? Are the people in your life and the experiences you're participating in uplifting and inspiring you? Are you fueling the construction of healthy rituals and experiences in you life?

Spend time in nature.  Create something.  Give to others.  Push your limits and get outside your comfort zone.  Try new things, be fearless and say yes to new adventures!! Open up your heart and mind - meet new people.  Love yourself ! 
How you began your journey as a detox specialist and nutritionist?
In school I worked towards the medical field in hopes to one day  become a pediatrician.  I wanted to be a doctor for the opportunity to connect with people and help them live their best lives.  While interning in a hospital I realized I didn't want to see these people in the circumstances I have been seeing them - sick or hurt.  I realized through this experience I  was pursuing the wrong field, as my passions lie in preventative medicine, holistic health and nutrition.  I've alway been passionate about food, about nature and about physical fitness - my journey led me to develop my own lifestyle program that I custom design for each of my clients.  I am involved in their lives, I help them design a life that inspires them to work towards being the best versions of themselves - mind, body and soul.  
Best tips for Summer detoxing:
Hydrate. Moisturize. Nourish your skin from the inside out by eating nourishing foods.  It's important to stick to your healthy habits even when summer roles around.  You are exposed to a lot of sun during this time, taking the proper steps to nourish your mind, body and soul are important.
 

Best summer time foods :
Watermelon is my favorite - it contains potassium which helps you balance water and nutrients in the cells.  
Berries - contain antioxidants which give your skin extra protection agains sun damage.  
Spinach - firming phytonutrients such as beta-carotene and lutein which has been known to improve skin elasticity. 
Pineapple 
Tomatoes 
Avocado  
Most detoxing yoga poses:
Spinal Twists 
Half Pigeon 
Down Dog 
Cobra 
Shavasana 

Top foods for beautiful healthy hair:
Blueberries 
Salmon
Nuts: Walnuts, Brazil Nuts, Pinenuts  
Sweet Potatoes 
Saur Kraut 


What being a Spiritual Gangster means to you?
Being a Spiritual Gangster is about nourishing your heart and soul through passion that inspires you.  Being a Spiritual Gangster is about being fearless - fearless in love, in adventure, in creating the life that inspires you to be the best you.  It's about being relentless in the devotion to live your life in the present moment, taking control of your happiness and giving this world good energy.