Meet Our Muse: Tori Praver
Meet our muse Tori Praver — mom of two, model, entrepreneur, swimwear designer, surfer, yogi, and newly minted children's book author. She believes that recharging and getting a good night's sleep is essential to staying positive and productive from sunrise to sunset. We had a blast lounging with Tori in her beautiful LA home, as she shared her favorite evening rituals honoring her wellness intentions beyond the day and into the night.
Q: Bedtime ritual you can't live without?  
Once the kids are asleep and the house is quiet, I love to get cozy at home with a cup of tea and an episode of my favorite show. I just finished Nine Perfect Strangers and am currently watching Yellowstone. If you haven't seen it yet, you must!
Q: How has motherhood inspired change in your life?  
Becoming a mom has inspired me to be the best version of myself. When you become a mother, you instantly are no longer the priority – you learn the true meaning of selflessness, and it changes your vision on life as a whole.
Q: What energizes you in the morning?   
Coffee!
Q: Tell us about your favorite things on your nightstand right now?    
My essentials oils diffuser - I use it every single night. Also a CBD pen, incense, and a phot of me and my brother when we were kids.

Q: How do you make your bedroom a sanctuary?
Candles, sage, and lighting my fireplace.
Q: Do you have a special mantra that you live by?  
Now is the time. If not now, when?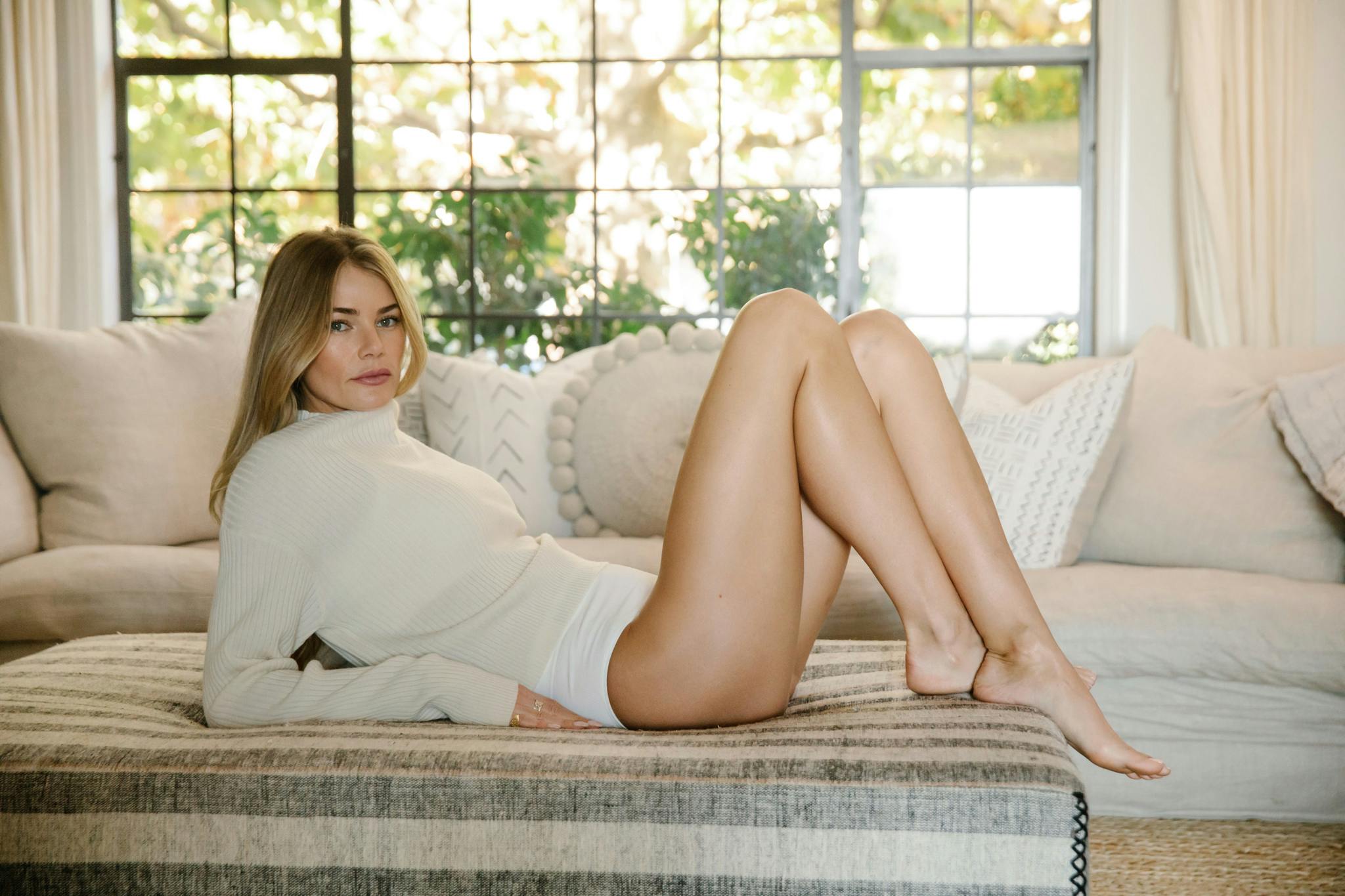 Q: What is your favorite piece from the hOMe sleepwear collection?  
Honestly, I love them all. When we were shooting at my home and changing looks, each piece was better than the last. If I had to choose, I am obsessed with the merino cashmere Sweater Sleep Romper – I've been living in it. Also the Oversized Sleep Tee in Rose Quartz (I love the quote on the back, and the quality is SO soft), and the Seamless Sleep Bra and Brief. Oh and the merino cashmere Leg Warmer, because… who doesn't want to prance around in leg warmers? Warm, cozy and so cute!
Q: What do you have in store for the next year – new projects, travel, family celebrations, etc.? 
All of the above! During quarantine I wrote my first-ever children's book, which launched just this past week. I've always had a knack for coming up with great stories to tell my children, except this time I needed a story to get my kids to stop fibbing… cue in The Truth Fairy. It's a tale about the importance of being honest (not that our kids would ever do otherwise 😉). A portion of proceeds from each book will go directly to Covenant House California, a non-profit that supports youth overcoming homelessness & trafficking, which is a cause that is near and dear to my heart.
My brand Tori Praver Swimwear is getting ready to launch a Holiday Capsule Collection – it's a really pretty shade of sage green with polka dot print, and comes in new cuts and styles that I cannot wait to wear! 
We'll then end the year in Aspen, where I recently got married this past September. It's such a special place for me and my family, and so magical during the holidays. Plus, I need to clock in some snowboarding hours.
Q: What does being a Spiritual Gangster mean to you?  
Being a strong, confident and independent woman – empowered to take on the world… or sometimes, just the day, ha!