Make Nice (Cream) With Banan Bowls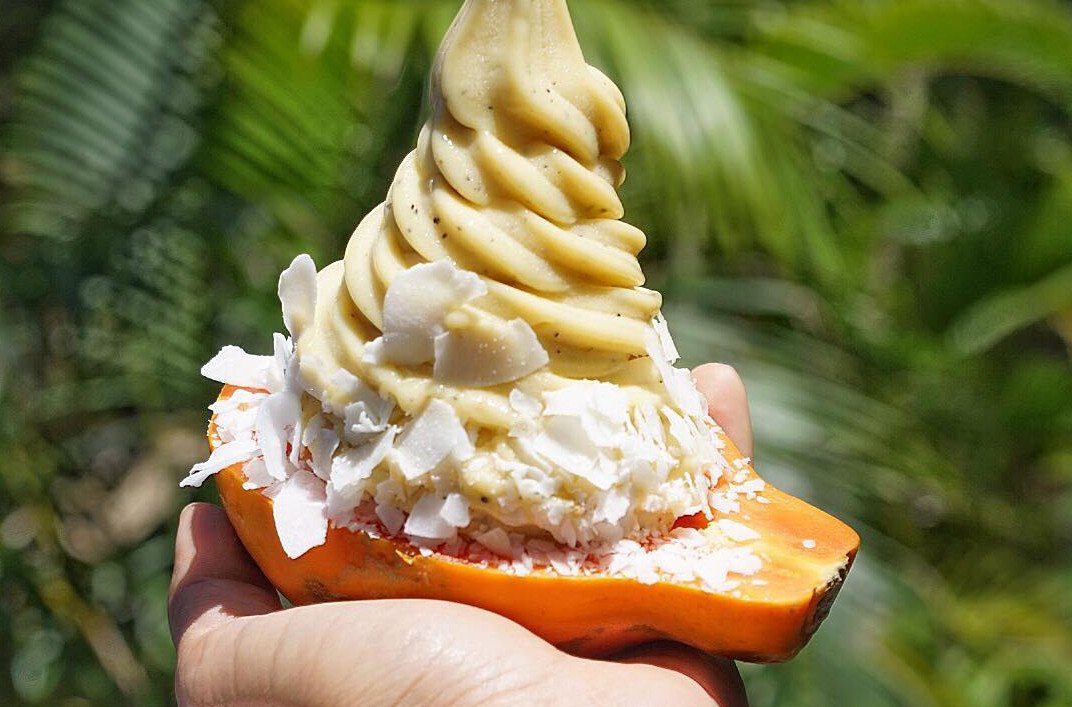 Let's start with the basics—what IS a Banan Bowl?
A Banan Bowl is a local, healthy, dairy-free treat made from local bananas. Think of a mixture between acai bowls and ice cream! Everything is made from local bananas, and from there, we take other local fruits, veggies, herbs and spices to make different flavors like matcha, acai, chocolate, mango, lilikoi, greens, roots and pineapple coconut. Then, we top off the bowls with fresh fruit, grains, guava jam, honey, etc.
You guys all grew up together, right? How did the idea of Banan Bowl begin? 
Yes! We've all been friends for a long time now. The idea started when we were all away for our senior year of college and some friends showed us banana ice cream. It was just a simple vegan recipe for one-ingredient banana ice cream and we immediately fell in love. It started as a joke about how no one has ever commercialized something like this. But the more we talked about it, the more we convinced ourselves we should go back home, start up a banana ice cream business and throw a local, healthy twist on it. 
After about 3 months of recipe testing in our parents' kitchens, we finally decided to pull the trigger on a cheap deal off of Craigslist for a food truck. We prettied it up and opened it in the winter of 2014. After about a year and a half of working in the hot truck, and thousands of peeled bananas later, we decided it was time for the next step. We did a Kickstarter campaign to help fund the buildout of our first store and were blown away with the response and support from the community. We raised $35k and ended up opening shop across from the University of Hawaii.
This one's for each of you: describe your perfect Banan Bowl
Luke: My favorite bowl is a mixture of greens, roots, and lilikoi. The greens Banan is made with ginger, mint, and spirulina. The roots Banan is made with beets, ginger, turmeric and lemongrass. I love these three flavors because they're all so different from any other ice cream I've had. They're refreshing and perfect for a morning pick-me-up. I'm pretty simple with the toppings—if anything I'll put some pineapple, papaya and guava jam on it. 
Zak: I stick to the basics—acai base with granola, puffed quinoa, honey, and strawberries. This combination is a top seller, especially with the after-school kids. 
Matt: I love to change up his compostable bowl when eating Banan. He loves eating out of papaya boats, pineapple boats, coconuts, and even Ulu! (breadfruit). His perfect bowl is the Riss Moore creation: banana-acai swirl topped with granola, coconut flakes, puffed quinoa, strawberries, pineapple, papaya and a drizzle of honey. 
We love your mission and commitment to giving back to the local community (pigs included). Why was this so important to you guys when starting your company? 
This has always been our driving force when setting out to start Banan. We wanted to feel a purpose behind what we were doing, because none of us are driven much by success and money alone. We want to educate our customers, our community and ourselves on local agriculture and environmental consumption. With a little research in the beginning stages, we discovered that 90% of all the goods we use in Hawaii are imported. We set out to flip that ratio and strive for 90% of all our ingredients to be locally sourced. We were also intrigued with the idea of composting all our food waste and are committed to give all our food waste back to small family farms and pig farms. No matter how big we get, I think this will always be our mission. 
What does that spirit of Aloha mean to you? How do you think that's shaped your work (and life) ethic? 
Spirit of Aloha to us means striving to do something good and sharing our passion and love for good food with our community. This is our ultimate goal with Banan: to have a positive impact and be positively impacted by health-conscious people. To educate and be educated. The most rewarding aspect of Banan is the family that we have built around us—from working with best friends, building our employee team with like-minded individuals, working with local farms, seeing the same routine customers and having a positive impact on our community. 
Lastly, what does being a Spiritual Gangster mean to you?
Being a spiritual gangster means to do things differently. To be the change you want to see in the world. It means to have a spiritual conscious but also to be confident enough to stand out and be unique. 
And for those moments when you're (unfortunately) not in Hawaii, here's how to make your own Banan Bowl at home...
Creation: Stairway To Heaven
Serves 2
For the ice cream base
3 fresh bananas
1 oz. chopped fresh ginger
2 oz. fresh mint leaves
2 oz. kale
1 tsp. spirulina powder
1 oz. water

Toppings
3 oz. cut fresh pineapple
1/4 papaya (de-seeded)
1/2 fresh banana
A spoonful of granola
A spoonful of shaved coconut
A drizzle of honey
Preparation
Blend all base ingredients in food processor until mixture is consistent (we use a Vitamix)
Using a standard kitchen strainer, strain ginger fibers and mint leaves out of mixture. Place in an airtight container and place in freezer for 8-12 hrs
Once the mix is completely frozen, pop it out of the container and chop into small square pieces (roughly 2x2 in.)
Throw them in the Vitamix and blend until perfect ice cream consistency is achieved.
Pour into a bowl, artfully place toppings, drizzle honey, and enjoy!
Pro tip: Serve it in a papaya boat for a delicious, compostable & highly Instagrammable option 
Follow @bananbowls on Instagram & say aloha on your next trip to Hawaii