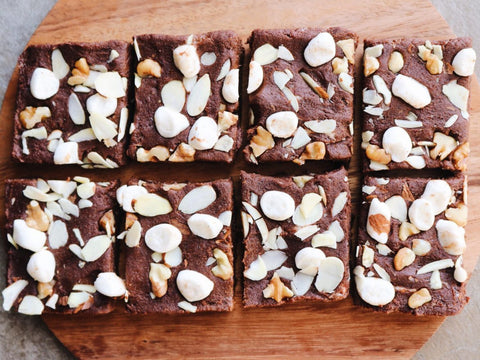 High Vibe Recipe: @frommybowl's No-Bake Rocky Road Brownies

Looking to bring something to the holiday table that's equal parts indulgent, easy and healthy(ish) without looking it?
We turned to Caitlin Shoemaker, the genius behind one of our favorite food blogs and Instagrams @frommybowl, for her no-bake brownie recipe that's dairy and gluten-free—but tastes better than the real thing.
No-Bake Rocky Road Brownies
Prep Time: 10 minutes
"Cook" Time: 30 minutes
Total Time: 40 minutes
Makes 8 brownies
You'll need...
1 cup Medjool dates, pitted
1/4 cup peanut butter
2 tablespoons plant milk
1/2 teaspoon vanilla extract
1/4 cup cacao powder
1/2 cup buckwheat flour
1/4 cup vegan marshmallows, divided
2 tbsp. walnut pieces
2 tbsp slivered almonds
Directions:
Soak the pitted dates in warm water for 5 minutes. Drain, but save the water.
Add the drained dates, peanut butter, plant milk and vanilla extract to a food processor or high-speed blender, processing until a smooth paste forms.
Next, add in the cacao powder and buckwheat flour. Blend until a dough forms; if the dough is too thick, add in the liquid from the soaked dates in 1 tbsp increments until it reaches your desired consistency, but keep in mind the mix should be thick and not too sticky.
Finally, pulse in 2 tablespoons of vegan marshmallows.
Line a loaf pan with parchment paper, and press the batter into it evenly. Note: It helps to have your hands wet for this step!
Sprinkle the walnut pieces, slivered almonds, and remaining marshmallows on top of the brownie mixture, then gently press the pieces into the batter.
Store in the fridge for 30 min before slicing into 8 equal pieces. If there are any leftovers, keep them in an airtight container in the fridge for up to one week.
Check out Caitlin's blog, From My Bowl, for more next-level vegan recipes