Demystifying Soundbaths With Jamie Ford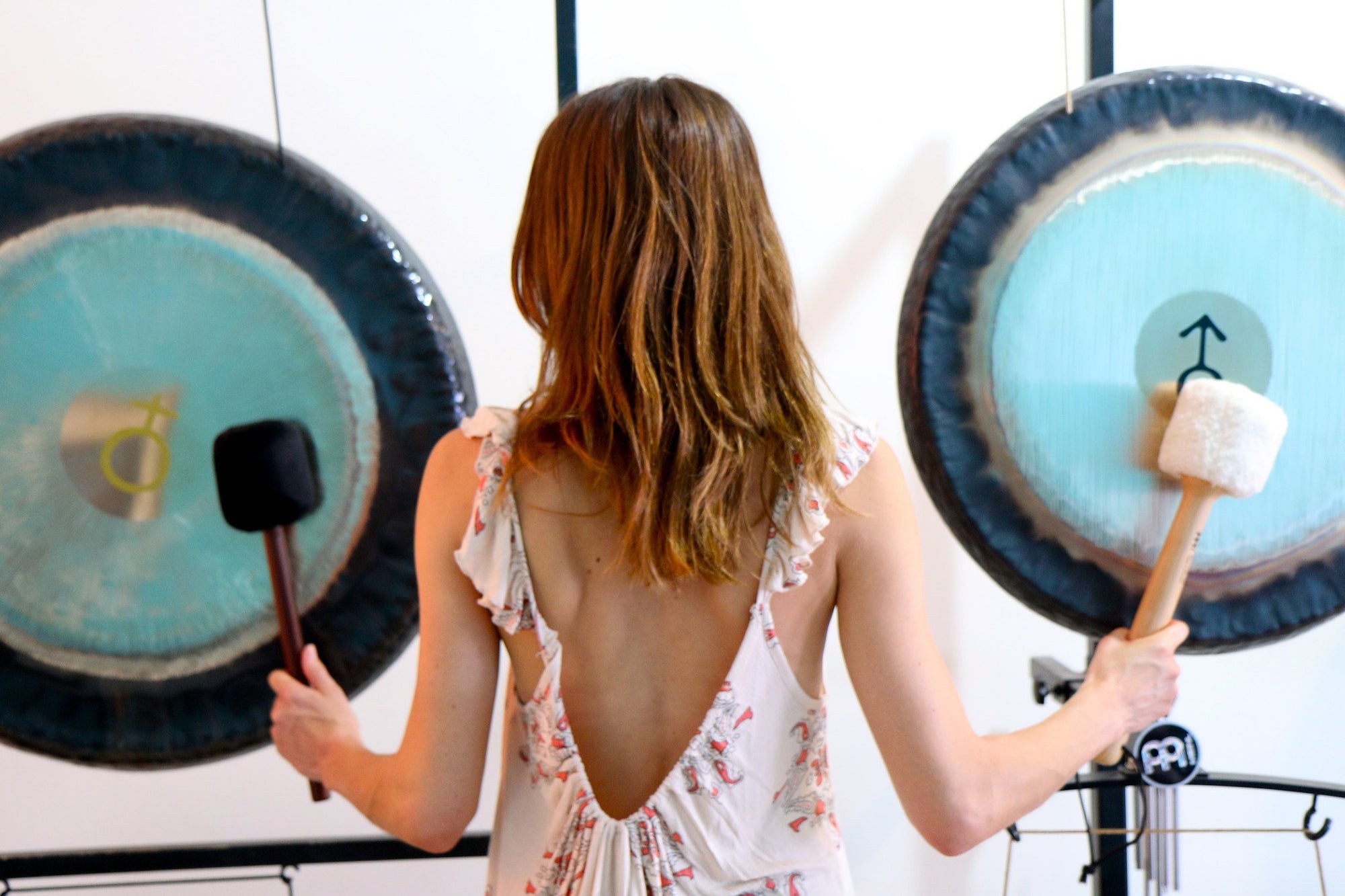 Even if you've never experienced a soundbath, chances are you've heard about them—and likely wondered—what does that even mean? After a few blissful sessions with LA-based healer Jamie Ford, we had the honor of talking with her to get the 411 on everything you need to know before your first soundbath. 
So, what exactly IS a soundbath? 
I define it as a meditative-like experience with gongs and crystal singing bowls. I play a minimum of 3 gongs and 5 crystal bowls at every soundbath. During the experience, participants relax in a comfortable position and listen to the sounds. The gongs I use are called planetary gongs and they help one connect to the energies of the various planets, sun, and moon. The gong combination and how they are played will affect the listener's experience during the soundbath. Most of my soundbaths are called "Gong Alchemy Soundbaths™". I bring a specific combination to each event that will shift the experience. Some combinations are more balancing, some are activating, some ignite creativity - and more! 
How did you get started?
I heard a gong in a yoga class and fell in love! Eventually I started incorporating sound healing into my sessions. I started with tuning forks and eventually discovered planetary gongs. Once I learned the gongs were tuned to planetary frequencies, I had to have them all!
What you should expect your first time?
For the first time - expect to have an experience that you haven't had before and be open to whatever that experience is. Each time is different - sometimes you will feel relaxed, other times energized. Sometimes you will have more of a physical experience, whether it's emotional or visual. Many people see colors or shapes during the soundbath - some people get creative inspiration, and sometimes people fall asleep!
What should you wear and bring with you?
Bring a yoga mat, blanket, and anything else you need to be comfortable lying on the floor. Wear comfortable clothes and dress in layers. 
What are the immediate and long-term benefits?
Most people immediately feel more clear and relaxed. The effects are cumulative. The more one experiences a soundbath, the more relaxed and less stressed they will feel in general. Many people find they sleep better and are more creative afterward.
How do I convince a friend to come with me?
Tell them it will help her/him get out of their heads for a little bit and they'll be more relaxed and able to handle all the stresses of life. 
 Find Jamie's upcoming soundbaths here, and a few of our favorites for layering below:
Take Me To Nirvana Hoodie, Vibe Attracts Tribe Tee, Only Love Sweatpants, SG Varsity Logo Camo Jogger