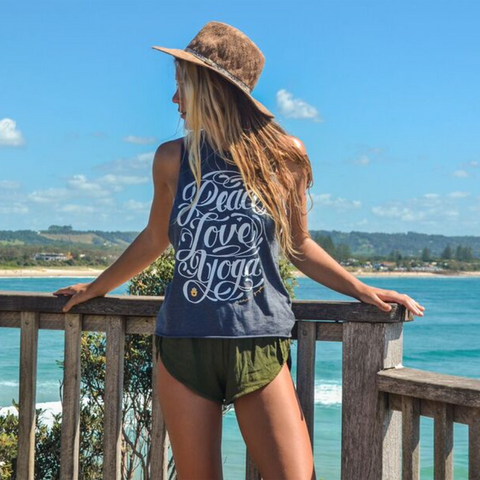 The Art of Getting Lost
Alex in our Peace, Love, Yoga Coachella tank
Summer is almost here and our hearts are filled with wanderlust. Travel, yoga, and lifestyle blogger Alex Lettrich takes us along on her journey to the golden coastlines of Australia, where getting lost is where you find your true self.
Sunset chasing in our SG Logo Coachella tank 
What does being a Spiritual Gangster mean to you?
Being a spiritual gangster means elevating yourself to a level where nothing can bring you down. It means truly living a life without limitation; a life that isn't designed from the fabricated happiness of what society has created for us. It's stepping into the fire and walking out absolutely shimmering.
What is your favorite part of traveling?
Traveling – it makes you speechless then turns you into a storyteller. The lessons you learn from worldly experiences have more impact than anything you could ever learn in a textbook or in a classroom. It stays with you forever.
Alex in our Yogini Crop tank
How do you find yourself by getting lost?
Traveling changes you - you take something with you but you also leave a part of yourself behind. I always find myself leaving parts of my heart in every place I've been because all of them have contributed to my personal growth in some way. It's funny...most of my journeys begin with the intention of running away from something, even though I know that same journey will ultimately lead me to face myself head on. When you're halfway across the world in a place you don't know and where people don't even know your name, you are temporarily free from judgment. When you're thrown out of your comfort zone and truly tested, those are the moments to find and understand your true nature. It seems that getting lost in the right direction is really not getting lost at all.
How do you raise your vibration while traveling?
Tread lightly. I've found that when I travel lighter, I'm able to focus more on my surroundings and my feelings without the added extra weight (literally!), allowing me to be much more present. Once you're able to do that, you can manifest this lightness into your journey. It seems cliché, but nothing elevates me more than a good playlist and an open road. I try to plan less, wander more, and expect nothing. Because I feel everything so deeply, I like to do a practice wherever I can to get in tune with the energy flowing in that town or country.  
Saluting the sun in our Ganesh Lotus Muscle Tank 
What is your favorite part about traveling in Australia?
What I love most about traveling in Australia is that around every corner you have the opportunity to see a completely different world. The way the coast lies, every beach has it's own unique landscape, whether it's a huge cliff, some crystal clear tide pools, or rock formations in the break. You never see or feel the same thing twice. What really hit home with me was how Aussies spend their time – they have this sense of community where friends will get together just by grabbing a bottle of wine and some cheese and throwing a picnic anywhere you can put a blanket down. They're an active and outdoorsy type of community, and it's really easy to be inspired to be healthy and in shape with this incredibly healthy society! 
What were some of your favorite hidden gems in Australia?
In just a short eighteen-day span, I covered ground between Sydney all the way north to Great Barrier Reef. I barely got to scratch the surface of what Australia truly is, but I was fortunate enough to stumble upon a few little gems I would happily recommend to you travel junkies.
For those of you who are complete foodies like me you know that finding fresh, local food is an absolute must. This spot is no secret, but it's a spot any local food enthusiast will appreciate. The Farm at Byron Bay is a sweet little farm that supports the Byron community with organically and sustainably grown produce along with free-range cattle and chickens. They have a full menu restaurant, bread and coffee shop, a produce shop and even a floral shop – all of which are grown or made on site! My next favorite spot is the Grounds of Alexandria in Sydney, which takes brunching to a whole new level. Like The Farm, The Grounds has an amazing breakfast and lunch restaurant, a coffee roastery, a sustainable garden and even hosts a farmers market on the weekends. I was fortunate enough to go on a day where they had a pop up made-to-order donut station while you waited to be seated, which was to die for!
Sunsets in our Denim Tie Dye Romper
The beaches in Australia are incredible. There were two spots on the Gold Coast that stuck out to me – Fingal Head and Tallow Beach. At Fingal Head there is a rock formation that you can walk up and it gives you a great lookout of the entire beach, but the best part is that over the rocks there is an amazingly clear tide pool that sits right on the ocean. Tallow Beach in Arakwal National Park near Byron Bay was another favorite because it was completely empty and had a lot of space and privacy. Everyone goes to Byron Bay Lighthouse, but there is a trail on the eastern side that takes you down the cliff to a rocky spot out over the ocean. 
A piece of my heart will always remain in Australia. Just as a piece of Australia will always remain with me. 
Travel often and travel with love.
xoxo,
Alex